Somehow the stars aligned over Los Angeles and I managed to find time to have lunch with Liz of "Everyday Goddess" fame today. It turns out that she is just as smart and funny as you'd think from reading her blog. I guess I shouldn't be surprised... but you never really know. I mean, I spend my time complaining about bitches clipping their fingernails in McDonalds, so heaven only knows what people expect when they meet ME in person.
I have mixed feelings whenever I'm in L.A. — so many miserable memories for me here. But then somebody pounds on the window of my taxi so they can sell me a pair socks and suddenly I want to move here. Perhaps I could get work as a movie "extra" for a career...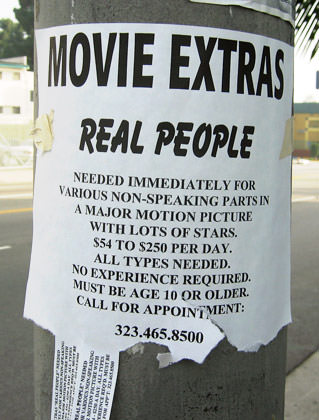 Hey, I'm as real as the next guy. Maybe even REALer (uhhh... you know what I mean). And $250 a day? That's some serious bank!
But there's still no vegetarian hotdogs at Pinks, so I guess that I won't be packing my bags just yet...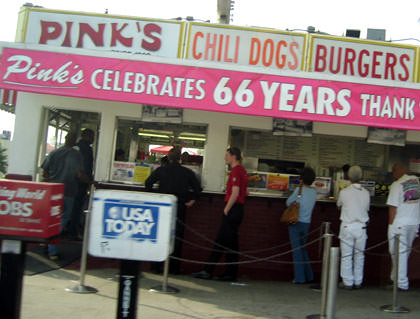 Oh... and the traffic still sucks ass.
After my taxi showed up, I told the driver to take La Brea all the way down to Century Blvd. because I didn't want to spend my time parked on the 405. But the driver doesn't like that idea and says "it's only 2:30... no traffic until later!!!" I know better, but I didn't feel like arguing the point and told him to do whatever he wanted.
I think we all know how this story ends.
... and so there I am parked on the 405 with a taxi driver saying "oh... there is traffic!" and me wanting to say "NO SHIT THERE IS TRAFFIC YOU DUMBASS!!" But I hold my peace as a $40 cab ride quickly turns into a $47 cab ride that's 15 minutes too long.
I think we all know what kind of tip my driver got.
And thus ends my sojourn into the wilds of La La Land. I hope I can sleep on the plane ride home.