Sometimes things just don't go as you planned.
I am typing this at the Seattle-Tacoma International Airport, where I have arrived to find that my flight into Weantchee had been canceled. Dreading the idea of spending the night in the urine-stained hotel that Horizon Air put me in last time... I head to the Customer Service Center to find out what my options are.
"There's a bus leaving at 9:30pm that's arriving in Wenatchee at 1:00am we can put you on" the lady tells me. "Great" I say... I'll take it!"
Yet here I sit at 10:00pm and no bus has arrived. Some people here were told a bus was arriving at 2:00, then 4:00, then 6:00, and then 9:00. But no bus ever comes. I ask at the counter "is this bus REAL, or is it just a story you make up to keep anarchy from breaking out at the airport?" Not at all amused, the lady answers "WE CAN'T CONTROL THE WEATHER!!" which, naturally, doesn't answer my question OR give me any encouragement.
With nothing better to do, I decide to open up the Lego Advent Calendar I bought while I was in Chicago. It's December 1st, after all...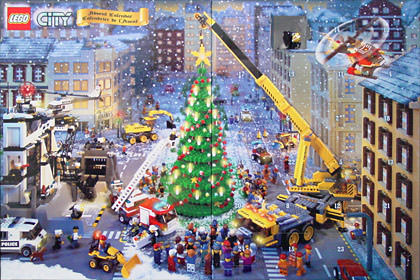 Every day until Christmas, you get a new Lego toy to play with, and that was just too cool to pass up! Tonight, for instance, I get a little Lego fire fighter to put together...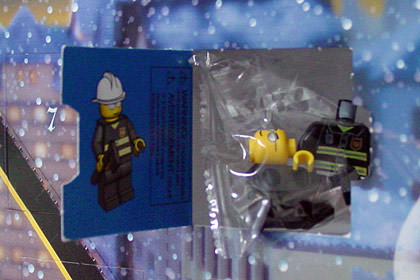 That's not much to play with, so I become torn over the idea of opening up the other 23 windows and seeing what else I'm going to get. Eventually I decide against it, and figure I can be happy with just the fire fighter. It's going to be a long night.
UPDATE: The bus didn't arrive until 10:30, and then we had to all claim our luggage and wait for clearance before leaving. It is currently 11:30 and snowing pretty hard, but at least we are finally leaving Seattle. I'm told we'll get to Wenatchee at around 4:00am, at which time I have to clean off my car and drive back to Cashmere. This sucks ass. Mainly because this bus SMELLS like ass, and they've got a video for the very stupid movie Kangaroo Jack playing at full-volume over crappy speakers. (thank heavens for iPod!). Sigh. Yet another night with no sleep.
UPDATE: I'm bored, so I've decided to write a story about the toys in my Lego Advent Calendar. Every day I'll open up a door, see what I get, then continue on until Christmas when I'll post the grand finale. That's good, wholesome, creative fun! But it's also slightly insane. Hopefully I can live with that.
CHAPTER 1: Psycho Roasting on an Open Fire
LEGO ADVENT CALENDAR TOY OF THE DAY: Firefighter

Once upon a time there was a little boy named Lego Dave who grew up wanting nothing more than to become a fireman. Hour after hour he would look at fireman books, watch fireman videos, sing fireman songs, and play fireman games. And every night Lego Dave would dream of riding in fire trucks, charging into burning buildings to save puppies, and all the things that firemen do which made Lego Dave love them so much.

Then one day, after many years had passed, Lego Dave graduated from High School and pursued his only dream by applying at the Fireman Academy. The classroom tests were challenging, but he welcomed them. The physical tests were hard work, but he pushed onward. With each new dawn, Lego Dave was happy because he was one day closer to fulfilling a life-long wish.

And then the day finally came when the Fire Chief called Lego Dave aside from his training. "This is it" Lego Dave decided... "the Chief has seen my potential and wants to make me a fireman this very day!"

"Hey" said the Fire Chief.
"Yo!" said Lego Dave.
"I have some news..." the Chief began. "I'm afraid we have to let you go..."
"Awesome!" exclaimed Lego Dave. "Where do I go to get my coat, hat, and red suspenders?"
"No, you misunderstood" the Chief declared. "You can't be a fire fighter, and so we have to ask you to leave."
"WHAT?!?" cried Lego Dave. "BUT I AM A FIREMAN!!"
"Errr... well... we ah... we got back your psychological examination and... errr... well, you're not exactly fire fighter material" the Chief said gravely.
"How can this be?" Lego Dave sobbed. "My dreams!"
"Sorry buddy" the Chief mumbled sympathetically.

Lego Dave was beside himself with grief as he walked home. "I am a fireman! I am a fireman! I AM A FIREMAN!!" he screamed to nobody in particular. And then something occurred to him: "Just because the Fire Chief says I can't be a fireman doesn't mean it has to be true!" A plan started to form. "I can make my own fire department and put out fires all by myself!" Lego Dave decided triumphantly.

And so it was decided. Late one night Lego Dave broke into the fire house and took the equipment he needed. He took a coat, hat, red suspenders, and a pair of sweet fire fighting axes that were attached to the side of the fire truck. "Now all I need is a fire so I can be a real fireman!" he declared. "I'll show that stupid Fire Chief" Lego Dave swore... "I'LL SHOW THEM ALL!!"


But where would he possibly find a fire to put out?

FIND OUT TOMORROW WHEN DAVE'S "A VERY LEGO HOLIDAY TALE" CONTINUES!