Turns out my "Chicago Adventure" was NOT over last night... I had a Depeche Mode concert to go to with fellow-blogger Kevin Apgar and his charming wife Katie!
As expected, it so totally kicked ass. Depeche Mode is easily the best live band I've ever seen, and one of the very few who sound better live than in a studio. Their latest album, Playing the Angel, is not their best work... but every song was -stunning- when performed live (oh how I want a DVD release of the concert). Dave Gahan is an amazing singer who puts everything he has into a performance yet STILL manages to deliver crisp vocals that strike you at your very soul. Personally, I don't understand where he gets the energy... I think he must be 45 years old now, but is kicking more ass on stage than guys half his age.
And what a funky cool stage it was...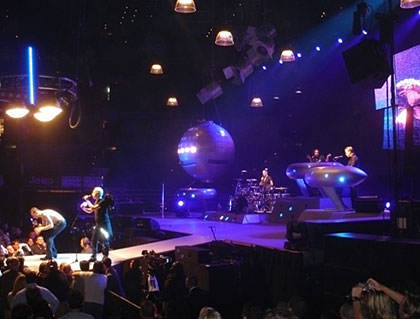 The artistic genius behind the band, Martin Gore, was in fine form... delivering emotionally wrenching lead vocals for a few songs, including Home which is a favorite of mine. But I think people will most remember him for running around the stage in a little black chicken suit. Needless to say, I simply must get one of my own, because I think I would look fabulous in feathers...
As I mentioned, the set list was a pleasing blend of new and old that ensured there was something for everyone. All songs were well-received, but I dare say that the older material had a bigger impact on the crowd than the new stuff. When songs like Enjoy the Silence and Just Can't Get Enough started blasting through the arena, the crowd just went nuts. This in turn energized the band, so it looked like they were having more fun with the old stuff as well. And as if that weren't enough, they've managed to update the classics yet again to make them sound all shiny and new (one of my favorite DM songs, Everything Counts was given a blistering rock beat that totally killed).
My only complaint was the band's selection for the final song of the evening... Goodnight Lovers from their somewhat boring Exciter album. After all the high-energy drive they put into the rest of the concert, it seemed like a week weak ending. Had they went out with a pumping crowd-pleaser like People Are People or something... they would have totally freaked out the entire arena and allowed them to sign-off on a high note. And isn't that how you WANT to leave a room when you're a rock band?
Anyway, even though I had to catch a plane to L.A. just five hours after the concert, and only managed to get 3 hours of sleep... it was all so totally worth it. My only regret was not getting to spend more time with Kevin and Katie, because they are alarmingly nice people. Not only that, but Kevin thinks I'm cool. You can read about just how totally cool I am in his entry over at Kapgar.com (oh... and I think that he wrote something about the concert as well).
Seriously though, meeting your readers and fellow-bloggers is really the best part of having a blog.
Well, except the guy who keeps emailing me to tell me that I am going to hell.
That's just mean.