As anybody who has ever called a customer service line can attest, half the battle in getting help is getting transferred to the right person. It seems that every time you call, there's a maze of "press 1 for this" and "press 2 for that" to go through, and most of the time the number you select is either wrong, or leads you to yet another maze of options. It's a horrifying and thoroughly frustrating way to treat people, but that doesn't seem to deter companies from using complicated automated phone menus.
So imagine my surprise this morning when I call a software company because of a problem, only to have an actual REAL-LIVE PERSON answer the phone?
I am so conditioned to having a machine pick up that I think I must have gone into shock. But once I regained my faculties, I was giddy with happiness that I wouldn't have to waste my time pressing buttons and could be connected directly where I needed to go...
Operator Lady: Super Sweet Software Company*, may I help you?
Dave: Uhhh yeah, I'm having problems installing your program.
Operator Lady: Well this is Customer Service, sir, you need to call Technical Support.
Dave: Oh. Uhhh sorry, this is the only number on the pamphlet thingy... can you transfer me?
Operator Lady: No sir, it's an entirely different number. I can give it to you if you're ready.
Dave: Okay.
Operator Lady: (gives number) Thank you for calling Super Sweet and you have a good day!

* Company name changed to protect the innocent.
Okay, not so bad. A little annoying I have to pay for a second non-toll-free call, but whatever. I call the new number...
Operator Lady: Super Sweet Software Company*, may I help you?
Dave: Ah. I think I somehow dialed the wrong number again. I had just called a minute ago and was trying to get Tech Support.
Operator Lady: Yes, this is Technical Support, I'll transfer you now...
Dave: HEY! WAIT A SECOND! Aren't you the same person I just spoke to at the other number?
Operator Lady: Yes sir. Both lines are routed thro--
Dave: Well why didn't you just transfer me the first time?
Operator Lady: We are using call logging to keep count of the number of calls each department receives, sir. You have to call in on the proper line so the count is accurate. Let me trans--
Dave: WHAT? That's the stupidest thing I've ever heard of... this means your count is already wrong because my first call was to the wrong number! Why not have the phone in Tech Support just keep track?
Operator Lady: (frosty now) Sir, providing you with the number for Technical Support IS a Customer Service Call!!
Dave: You have GOT to be kidding me. If you do--
Operator Lady: SIR! If you want to place a complaint call, I need you to call back on the Customer Service line.
Dave: (head just asploded) No. No. The last thing you want today is another call from me. I'll take Technical Support please.
Operator Lady: I'm transferring you now. Thank you for calling Super Sweet.

* Company name changed to protect the clueless.
I feel like I am trapped in a Dilbert cartoon. Seriously, does anybody know how really, unbearably, remarkably, stupid... STUPID people get in charge of dreaming up this shit? I'd be mad if I didn't find it so gosh-darn funny!
It also doesn't hurt that there was yet another amazing episode of Veronica Mars on last night. I swear I don't know how they manage to be so positively brilliant on that show every single week. I mean, two characters who are on the far periphery of the Veronica Mars universe were given shocking revelations last night that were so seamlessly woven into the main story that you have to wonder how mere mortals can create something so perfect. Who would have thought that they could ever, EVER turn Sheriff Lamb into a sympathetic character in such an unsympathetic way? AND WHAT THE HECK WENT ON WITH DUNCAN AND KENDALL BEHIND CLOSED DOORS?!? GAH!
Speaking of perfect... have you SEEN the spread of Ms. Veronica Mars herself, Kristen Bell, in the latest issue of Giant Magazine? I've scanned some eye candy from my copy to post, but there are more (tiny) shots along with the interview on the Giant Magazine web site.
Better yet,
subscribe to Giant at the super-cheap price of just $7.97 a year.
It's worth every penny...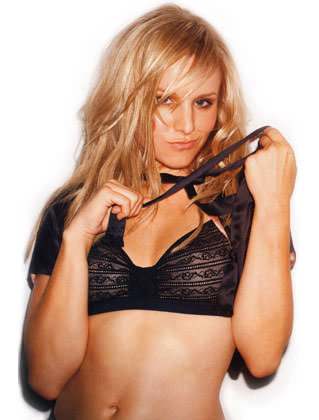 Yes. Love me the Kristen Bell.
BLOGOGRAPHY FLASHBACK ENTRY: Dave Approved: Lame!
BLOGDATE: March 2, 2004

In which Dave decides that internet quizzes are lame and decides to invent some quizzes that he'd actually want to take. Unfortunately, Dave failed to impress upon people that these were FAKE quizzes and don't actually exist... which is why he still gets emails asking where the quizzes can be taken to this very day (eventually Dave relented and actually created his own quiz, which practically nobody has ever bothered to take... go figure).
Click here to go back in time...