I am now officially totally psyched over the prospect of seeing Depeche Mode's "Playing the Angel" tour in a mere ELEVEN DAYS! The reviews have been fantastic, and I have yet to read anything but raves. If only I could have gone to the Seattle show on the 16th as well. Oh well. The fact that I am getting to see DM at all is practically a miracle, so I shouldn't be complaining.
The set looks to be a perfect blend of old and new (though it seems odd that Master and Servant isn't in there somewhere, because it is amazing when performed live)... A Pain That I'm Used To, John The Revelator, A Question Of Time, Policy Of Truth, Precious, Walking In My Shoes, Suffer Well, Damaged People, Home, I Want It All, The Sinner In Me, I Feel You, Behind The Wheel, World In My Eyes. Personal Jesus, Enjoy The Silence; ENCORE: Somebody, Just Can't Get Enough, Everything Counts; ENCORE 2: Never Let Me Down Again, Goodnight Lovers.
Sweet! I love that they're keeping Just Can't Get Enough and Everything Counts paired up in an encore, just like their "Music for the Masses" tour, which was killer.
Speaking of Depeche Mode, pop quiz hot shot...
You've just rocked out at a Depeche Mode concert in Chicago after working in Wisconsin for four days. Do you...

A) Go back to your hotel and sleep-in until 8:30 before hopping a plane home. Then skip going into work so you can spend the afternoon unpacking, resting, and reflecting upon what an awesome show you got to see the night before.

B) Go back to your hotel room for a 4-hour nap, then hop a plane to L.A. so you can go to a meeting the next morning. Spend two days in L.A. both dazed and deaf... hoping nobody important notices.
I thought the answer was "A" but apparently I'm wrong. The proper response is "B" -- yes, "B" is the correct answer.
Fortunately, I don't usually get more than four hours sleep anyway, so that's not an issue. It's more the fact that I have to hang at the airport for 90 minutes, then take a 4-1/2 hour flight after having only 4 hours of sleep that's the scary bit.
But who cares! I get to see Depeche Mode in ELEVEN DAYS!!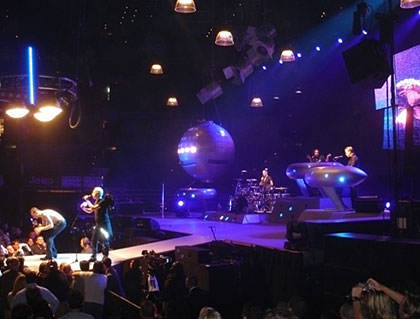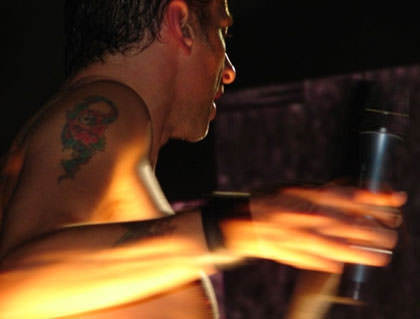 Whoo! Dig that freaky futuristic stage. It's like out of The Jetsons or something.
Eleven days and counting...