More adventures at Hotel Max Seattle.
Last night I finally had to grab my earplugs around midnight because the inconsiderate bitch in the next room continued to play her television at full-volume when I was needing sleep. Oddly enough, the street traffic was obliterated, but I could still hear her television set (which is just behind my headboard around a paper-thin wall). Sometime in the middle of the night, I must have taken out the earplugs, because I was awakened at 5:30am by the shrill tones of the same inconsiderate bitch using push-to-talk on her radio/mobile phone.
Yeah, I wanted her dead pretty bad.
But the REAL adventure started when I decided to take a shower this morning. The bathroom is tiny, but the shower is so small that you could fit three of them in a phone booth. And the curtain is so dark that you can barely see what you are washing because light can't get in. I barely had room to move. My elbows were pinned to my sides. If I were to fart, I'd probably be shot out of the shower by the pressure. This made even simple acts... like pouring shampoo... really difficult.
And of course I dropped the mini shampoo bottle.
And then proceeded to bang my head HARD on the soap tray when I tried to pick it up. I hit so hard that I saw stars and got light-headed. I literally had to climb out of the show all wet and soapy so I could lay down on the bed and wait for the room to stop spinning.
And now I have a big welt on my head...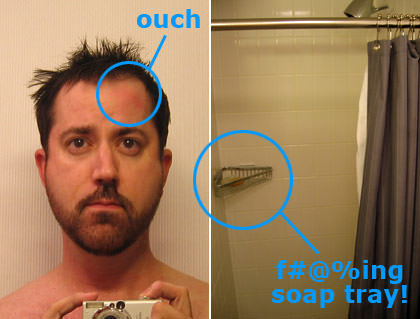 This sucks ass! How am I supposed to get anything done with a raging headache? And I must have rattled my teeth, because my jaw aches too. Hotel Max Seattle sucks balls! And don't get me started over the new "Japanese-Fusion" restaurant on the property called "Red Fin". To give you an idea... they had natto on the breakfast menu. I wrote about natto here, but suffice to say that it is the most foul, horrifying substance on the planet which is meant to be edible. I can't fathom any Westerner wanting to put it in their mouth. I played it safe and just had the eggs and some strangely spicy potatoes.
And they don't even let you put your restaurant charges on your hotel bill, you have to pay separately.
I'm beginning to think that prisons must have better accommodations. Though bending over to pick up the mini shampoo bottle would have entirely different consequences I'm sure.