Yesterday morning I needed to make a business call to a guy I know who is anti-Bush. And I mean really anti-Bush. Every time I have to call, I get an earful about the latest Bush happenings and how the world is sure to end soon because of the latest thing President Bush has done or said. Usually I don't mind listening to him going on with his ranting, because it's a nice source of free entertainment. But yesterday I wasn't really in the mood for it, and just wanted to get the information I needed to do my job and move on.
Naturally, this proved impossible. When somebody is passionate about President Bush... pro or con... you simply cannot stop them...
Guy: HA HA HAH! DID YOU HEAR BUSH TRIED TO ESCAPE A PRESS CONFERENCE IN CHINA AND WAS FOILED BY A DOOR!!

Dave: Uh... no.

Guy: I'LL SEND YOU THE VIDEO LINK! IT'S HILARIOUS! A DOOR!!

Dave: Uhhh... he forgot how to open a door?

Guy: NO... NO... IT WAS LOCKED! HA HA HAH!!

Dave: And he ran into the door and fell down or something?

Guy: NO! HE JUST WENT TO THE WRONG DOOR AND IT WAS LOCKED!

Dave: Ah. Well that's not so bad is it? I mean, it's not like he accidentally started a war with China or anything.

Guy: NOT YET! BWAH HA HA HAAAAAAH!
Well, whatever. I mean, it is a bit embarrassing... but if Bush didn't have an exit strategy for Iraq, why would he have an exit strategy for a press conference? Shouldn't people be accustomed to this kind of thing by now?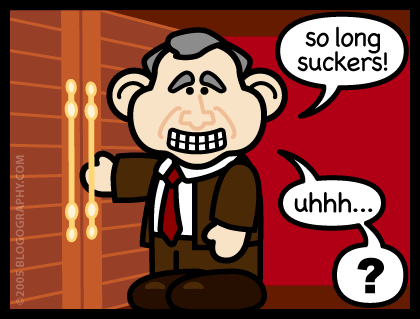 Hey, as long as Bush doesn't declare war on Canada or nuke the moon or something... I say it's all good. Run into doors or make up all the non-existant words you want, just don't get us into any more trouble than we already are, and I'll pretend to be happy.
Embarrassed, but faux-happy.
(Uhhh... there is still a two-term limit on the presidency isn't there?)
BLOGOGRAPHY FLASHBACK ENTRY: Leather Jackets
BLOGDATE: April 7, 2004

In which Dave attempts to find a place to buy a leather jacket via Google and discover that "leather" can mean very different things to different people... and there are plenty of freaky people out there.
Click here to go back in time...