Watching television is getting to be a horrible exercise in self-inflicted torture.
Let's face it, most of what's on TV is crap. And once you finally do find something to watch, it's constantly being interrupted by commercials. But even that wasn't enough for dumbass network execs, because they've also started putting advertising ON TOP OF THE SHOW YOU ARE TRYING TO WATCH! It's getting so bad and so distracting that sometimes it is hard to focus on the actual show...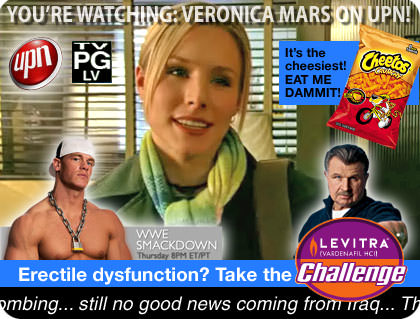 You would think that it couldn't get any worse than that.
But you would be wrong.
Now networks are trying to drive traffic to their web sites by offering "exclusive scenes" of their popular shows which are only available online. For example, at the end of the last CSI Miami episode, there was a huge banner telling you to visit CBS.com to see the "extended ending" for the show. Nevermind that a good chunk of their viewers probably don't even have access to the internet... for some reason CBS is just dying to get people to their site.
So off I go.
And what I find there is something that I guess you could call it an extended ending to CSI Miami, but it's kind of hard to tell when the entire segment seems to be nothing more than Hummer beauty shots that happen to take place in front of some actors...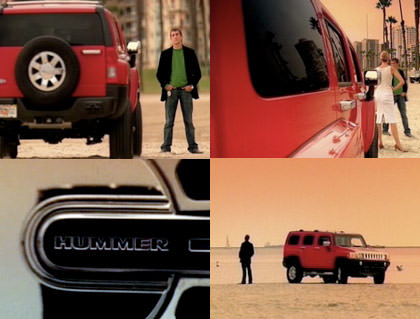 Seriously, it's in EVERY SHOT! They didn't even attempt to make it subtle... it's a Hummer ad.
Now we know. Apparently it's not enough that networks are whoring out their shows for product placement (accepting money to feature products IN the show)... now they are BUILDING SHOWS AROUND THE ADVERTISING! And what's so totally lame here is that they actually worked that gas-guzzling Hummer into the dialogue!! So now we have the entire cast of CSI Miami driving around in Hummers. As if David Caruso's pathetic "acting" wasn't enough to make me gag, now the show has turned into an advertisement that's interrupted with more advertising with advertising in the advertising.
Next week it will be a new CSI Miami "extended ending" sponsored by Massengil feminine hygiene products...
Det. Horatio Cane: Calleigh, do you ever have those moments where you just aren't feeling fresh?

Calleigh Dusquesne: Excuse me?

Det. Horatio Cane: You know... down there...

Calleigh Dusquesne: OH! Of course I do! There's no need to be embarrassed, everybody does! But freshness isn't a problem since I discovered Massengil's NEW Herbal Douche!

Det. Horatio Cane: Really? Calleigh, you are a life-saver! Ha ha!

Calleigh Dusquesne: Ha ha! No problem! Now go douche yourself and then we'll try to figure out how our murderer managed to feed this dead body into a food processor.

Det. Horatio Cane: Will do! Oh... and Calleigh... that's no ordinary food processor, that's a NEW Cuisinart Model 6000, with titanium blades that are able to make short work of even the toughest foods... and even tough body parts like bones!

Calleigh Dusquesne: Wow! I need one of those for my kitchen! Now hurry up with that NEW Massengil Herbal Douche, Horatio... you're not getting any fresher by just standing there!
I'm sure networks will defend themselves over this kind of blatant forced-advertising by claiming they have no choice... people with TiVo and VCRs are forcing them to work ads INTO the shows, because people aren't watching them OUTSIDE of the show. Well, whatever. All it's doing is making me not want to watch television AT ALL.
Except, of course, for the most excellent VERONICA MARS airing tonight at 9:00 on UPN!