After nearly killing a "K-9 robot dog" pull-toy with my suitcase while trying to escape from the Dr. Who fanatics (which got me a nasty look from a "Doctor" dressed up with a nasty hand-knit scarf)... I managed to make my way to the car rental place so that I could pick up my Dodge Neon for the trip north. The Neon itself is not such a bad automobile, but the visibility is horrendously bad, and made all the worse by the funky spoiler that's blocking my back window. I'm relieved to report that I didn't back over any Daleks in the parking lot.
Checking in at work revealed that I had nothing to do today, which meant there was plenty of time to goof off. My idea of goofing off was to get a long-overdue haircut at the Mayfair Mall (which is considered to be Milwaukee's largest, which is odd considering it is located in the city of Wauwatosa... not Milwaukee... just down the highway from the Harley Davidson factory).
This was a big mistake. The mall was so crowded that I had to park in the next county and, once inside, found myself wising that I had brought my Papal Power Staff...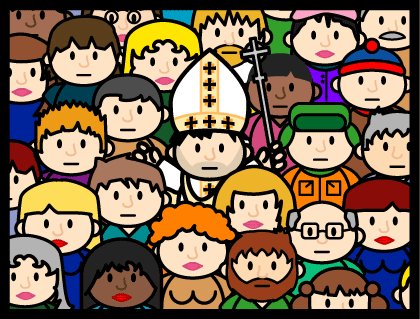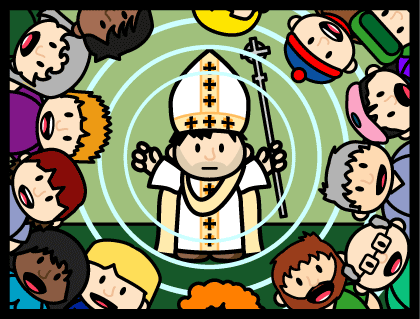 Yes, there are benefits to being The Pope.
The Apple Store was so packed with people trying and buyng iPods and iMacs that I couldn't even get near the iPod accessories to buy a case for my new nano. Eventually I just gave up at the mall and headed to Culvers for a plate of delicious crinkle-cut fries and a caramel-cashew sundae. Sweet!
It's cold out, so I'm going to sleep in tomorrow.
BLOGOGRAPHY FLASHBACK ENTRY: I Want a Gun
BLOGDATE: April 26, 2004

In which Dave denounces violence in all forms, but then wishes he had a big-ass gun so that he can have a more pleasant driving experience.
Click here to go back in time...