Winter travel is always interesting, because you have no idea if you will actually reach your destination. Flying out of the small airport at Wenatchee this morning presented even more of a problem, because a snowstorm had just hit. Fortunately, gallons of de-icer dumped over the plane allowed us a departure only a half-hour late, which was better than I could have hoped for. Once in Seattle, it was a relatively quick three-hour hop to Chicago, which was having a snowstorm all its own. As we pulled into the gate, all the planes were getting deluged in de-icer. I can only hope the stuff is biodegradable.
Once I had arrived in the Windy City and waited a half-hour in the bitter cold for the hotel shuttle, I was shocked to see that I was not the only one waiting for a ride... a full dozen people were crowding on the small bus. This seemed unreal given that other shuttles were leaving with only one or two passengers, and I couldn't figure out why the Wyndham Hotel should be so popular.
Until I arrived to find that there is a huge Dr. Who convention here.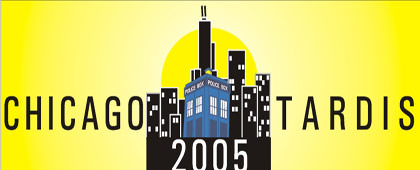 Apparently this one is particularly meaningful to fans because the "Fifth Doctor" himself... Peter Davison... is in attendance. This stroke of luck has me wishing that I was a bigger fan (sorry James!), though work would prohibit me from attending anyway.
Why couldn't it have been a Veronica Mars convention? I would have skipped work for that! I'd probably get fired, but at least I would have Kristen Bell's autograph to console me during unemployment!
I'm not so much into memes anymore, but Kachina has come across a musical meme I haven't seen before, so here we are...
Of all the bands/artists in your cd/record collection, which one do you own the most albums by? I am not at home to count, but I am guessing it would be The Thompson Twins. I have an exhaustive collection of singles, maxi-singles, albums, imports, specials, collector editions, bootlegs, picture discs, and the like. Along with Depeche Mode and a-ha, they were an 80's favorite.
What was the last song you listened to? A Pain That I'm Used To by Depeche Mode. I was almost finished with it when the stewardess asked me to turn off my iPod.
What's in your record/cd player right now? Well, I don't have a record or cd player anymore, but my PowerBook here has an exhaustive collection of 6784 tracks that would be far too long to list here. If it help, the last cd I bought (because it was unavailable from the iTunes Music Store) was How Can I Sleep With Your Voice In My Head, a live album by a-ha.
What song would you say sums you up? Oh man... how can I pick just one? Katrina got three, so I'm taking three as well! First would be I Wish I Cared by a-ha, second would be Nothing by Depeche Mode, and third would be Hard Road by The Shore (an amazing band that I have absolutely no idea why they aren't massively popular).
What's your favorite local band? Well, it was Nirvana. At the height of the grunge scene in Seattle, I was lucky enough to see them in concert a few times. But Nirvana is no more, so I guess I'd have to say "The Retros" which is a funky 80's cover band that's always a lot of fun to see live.
What was the last show you attended? It was a club in Seattle, but I forget the name of the band. Heck, I forget most of what happened that night!
What was the greatest show you've ever been to? Depeche Mode's "Music for the Masses" tour in 1988.
What's the worst band you've ever seen in concert? Well... that would probably be Chris Isaacs... but it wasn't his fault! His set was actually pretty good, but he was being booed off-stage, which kind of killed the mood.
What band do you love musically but hate the members of? Oasis.
What show are you looking forward to? Depeche Mode's "Playing the Angel" tour next week!
What is your favorite band shirt? It's an old, ancient Thompson Twins 84 Tour shirt that has their terrific Satori logo on grey. Love it. Still own it. Need to photograph it.
What musician would you like to hang out with for a day? Any of The Corrs sisters would do nicely.
What musician would you like to be in love with for a day? Any of The Corrs sisters would do nicely.
Metal question-Jeans and Leather vs. Cracker Jack clothes? Neither... though you would probably see me in jeans and leather first.
Sabbath or solo Ozzy? Sabbath.
Commodores or solo Lionel Ritchie? Uhhhh... do I have to choose?
Punk rock, hip hop or heavy metal? Rock. Though there was a day punk was the world.
Doesn't Primus suck? Except for their South Park song, I guess.
Name 4 flawless albums: a-ha, Minor Earth, Major Sky. Depeche Mode, 101. Nirvana, Nevermind. The Cure, Disintegration
Did you know that filling out this survey makes you a music geek? Uhhh... okay.
What was the greatest decade for music? For me, it would probably be the synth-pop days of the 80's, but the "Seattle Sound" in the 90's was absolutely revolutionary, so I'll go with that.
How many music-related videos/dvds do you own? About 15.
Do you like Journey? Not really. I don't think I ever did, and have never owned any of their music.
Don't try to pretend you don't! Really, I don't.
What is your favorite movie soundtrack? Depeche Mode 101. Which counts, because it was the soundtrack to the Pennebaker concert film of the same name.
What was your last musical "phase" before you wisened up? I never seem to get any wiser.
What's the crappiest CD/record/etc. you've ever bought? It was some crappy CD by Jermaine Stewart, because I needed that equally crappy song "We Don't Have to Take Our Clothes Off" for some project I was working on.
Do you prefer vinyl or CDs? Neither. I'm all digital now and have converted everything over to iTunes.
And on that happy note, I'm off to bed. Is it too much to hope that Chicago weather will be kind to me tomorrow morning when I pick up my rental car?
BLOGOGRAPHY FLASHBACK ENTRY: Love
BLOGDATE: March 22, 2005

In which Dave professes an unnatural attraction towards his PowerBook and contemplates the merits of loving a Mac vs. loving a girlfriend.
Click here to go back in time...