Guys like to look at naked women.
This should come as no surprise to anybody, and it's not really our fault... we're just built that way. Women probably look at this as a defect, but I prefer to see it as part of our charm. In any event, if the ladies are okay with showing their naked body to a bunch of neanderthals at a strip club... isn't their right to bump and grind guaranteed by The Constitution or something?
Well, not according to the prude dumbasses on the Seattle City Council. Now, instead of some erotically innocent drunken fun, there are stupid rules to follow...
Patrons must remain 4-feet from the performers at all time.
A 3-foot railing must be installed between the patrons and performers at the indicated distance.
No touching or direct tipping is allowed.
All clubs must install better lighting.
Which pretty much takes all the fun out of going to a strip club. Those heady days of anonymously heading out to a dark and seedy joint for a drink*, lap-dance, and stuffing a G-string with twenties are gone... at least in Seattle. That sucks ass!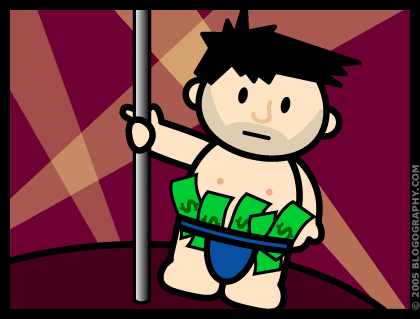 And before you go all "but Dave, strip clubs are exploiting women!" I have to heartily disagree. The clearer thinker will realize that it is actually the MEN who are being exploited... for their cash. Women throw boobies in our faces and, as if by magic, our money disappears. We go home happy and poor. The ladies go home happy and wealthy.
Everybody is happy.
But not anymore. Not in Seattle.
So let's look at this for what it REALLY is... an effort by local government to tell us how to live our lives and drive strip clubs out of business. So congratulations Seattle! A harmless activity between consenting adults has just been BANNED by people who think that THEIR morals and way of life should be YOUR morals and way of life. And America loses just a little bit more of her freedom because people in power don't want for you to be free... they want you to look, act, talk, worship, and be entertained exactly like they do.
I don't care whether you agree or disagree with a woman's right to get naked for money... the big picture here is that legislation like this is only the beginning. How long will it be before movie theaters aren't allowed to show R-rated movies? How long will it be before museums can't display works of art that contain nudity? How long will it be before libraries won't be able to carry children's books that show unclothed animals? How long will it be before wearing a bikini is a crime?
And you can just forget about Boobie-Thon.
Where does it stop?
The answer is... it doesn't. The morons of the "Moral Majority" will not stop until everything they consider to be "morally improper" has been eliminated. Stopped. Banned. Destroyed. Gone.
And that's not right. That's not America.
America is having a cold beer after a long hot day in a darkened club with a fist full of bills and a total stranger's boobies in your face. Fortunately you can still find this American dream but, if you live in Seattle, you now have to drive up to Canada to get to it. Sadly, that's yet another trade imbalance for our economy to deal with... we're even exporting bare breasts now.
I weep for a future where guys can't see fine American boobies in a country that was founded so that they could do just that. Seattle mayor Greg Nickels (along with council members Jan Drago, Richard McIver, Jim Compton, David Della and Richard Conlin) can kiss my ass. F#@% all of you America-hating bitches.
* The only drinks you can order at a Seattle strip-club are of the non-alcoholic variety. You have to be sure you are drunk enough to lose your shame, but not so drunk you get bounced, BEFORE entering the club. Just another helpful tip from your friends at Blogography!