According to the weatherman, it was supposed to be raining today. But looking out my window, all I saw was scattered clouds. By the afternoon, even the clouds were gone, leaving a flawless blue sky. The sun was so bright, in fact, that it made getting some photos difficult... even with a polarizing filter on my lens. I never thought that I would find myself complaining over a perfect day.
Wanting to avoid the 2-3 hour lines at the Vatican Museum, I got there 30 minutes early. The queue was already forming, and in another half-hour the line was around the corner and out of sight. It would seem that the longer you wait to show up, the longer you wait to get in.
However long you wait, it's all worth it once you get inside. They don't let you take photos of the Sistine Chapel, but there are plenty of other remarkable ceilings to photograph...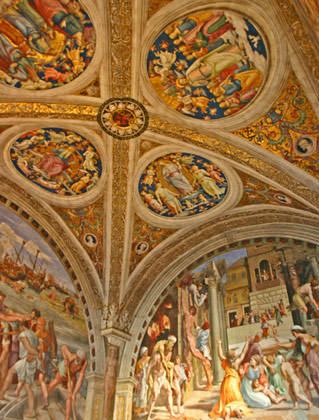 There are hundreds (thousands) of renditions of Jesus in the Vatican Museum, some of them surprisingly clever. I particularly liked this one, where he is looking around at things with a notable curiosity...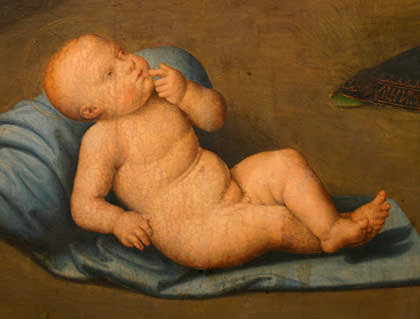 Last time I was here, I didn't get to visit their collection of Roman statue art. It's pretty impressive and, from the lack of crowds, severely under-appreciated...
After three hours wandering the museum, it was time to walk over to Saint Peter's. Unlike my visit in 2000, they now have metal detectors and baggage inspection. This adds a significant amount of time to entering the basilica, though I suppose it's a smart thing to do. Oddly enough, they looked to be setting up for a rock concert in front. I guess the new pope knows how to party...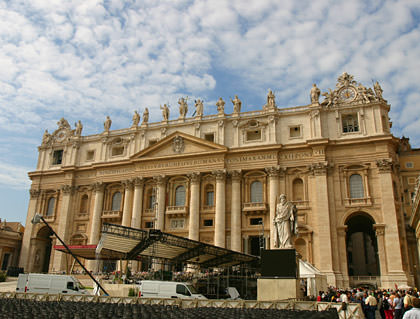 The queue to go to the top of Michelangelo's Dome was not too bad, though it's hard to imagine anybody complaining about standing in line to see something so magnificent...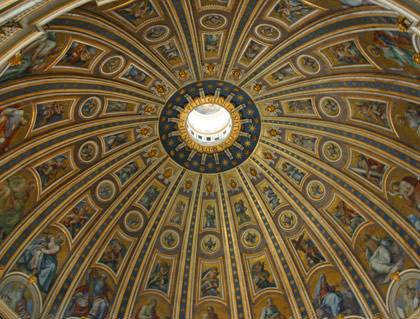 The view from the bottom back up is equally stunning... with ant-sized people scattered below...
Around noon, the clouds were mostly gone, leaving a terrific view of the city...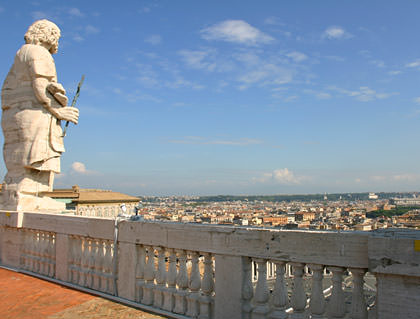 All that, and the day isn't even half over.