It seems like only yesterday I was whining because Depeche Mode was coming to Seattle and I was going to be out of the State.
Well, okay, it wasn't yesterday... it was actually two weeks ago. But still, I was positively crushed that I wouldn't be able to see my most favoritist band ever in concert. It never even occurred to me that I might be able to catch them in a city other than Seattle, until Kevin had left a comment asking about attending his local concert in Chicago. As it turns out, I was going to be in Milwaukee then... just a measly two hours away. Sweet! Looks like I'll be playing the angel after all.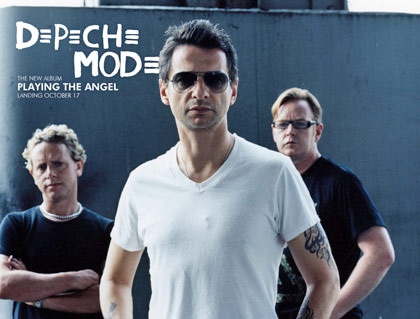 And, thanks to a special promotion that iTunes was running, I was able to score us pre-sale tickets that aren't too bad. The only painful part of the entire ordeal was paying the $9.95 PER TICKET service fee that the TicketMaster bastards charge on top. Yeesh. Do I get lubricant with that?
It's nice to have something to look forward to.
So what I am doing up way too late tonight... errr... early this morning?...
Visiting What Should I Read Next? so I can have a list of books to look for at the airport book shop.
Downloading a bunch of Star Trek "fanflicks" which I found out about from Planet Fandom. I knew that there were goofy Trekkie movies where geeks fantasized about being Captain Kirk in their basement... but, until I read this article... I had no idea. The quality is surprisingly good and the acting, while not Emmy-worthy, is better than you Would expect. So far, I like what I've downloaded better than the entire season of the lame Star Trek: Voyager.
Packing my suitcase. Which is something I like about as much as being punched in the face with a burning Subaru. This is probably why I don't bother to pack very much when I travel.
Whining because my back hurts. Nothing makes 15 hours of travel more fun than doing it with sore body parts. It could be worse I suppose. I mean, I might have accidentally sat in a campfire and got 3rd degree burns on my ass.
Being thankful that my web hosting company isn't as stupid as I thought. I just got an email telling me that they are DOUBLING the allowed monthly bandwidth for their customers. This is what they should have done MONTHS ago, to compete with every other hosting company that's a major player. I am glad not only that I don't have to worry about bandwidth overages for a while, but also because I don't have to leave Lunar Pages... other than their once-stingy bandwidth allowance, they are an awesome company to work with. Thanks guys!
Appreciating the fact that INXS probably made the best choice for their new front-man (big surprise). I may not have cared much for J.D. Fortune's actions on the show... but, after watching his final performance with the band, have to say he seems to fit well with them. He's no Michael Hutchence, but who is? Now, what's going to happen with Jordis?
Movie Quotable of the Day:
"The next time I write in this diary, Mother will be dead. How odd... yet how pleasing."
Day-Before-Yesterday's Answer:
Little Shop of Horrors
(1986) with Rick Moranis and Steve Martin.