Yesterday when I walked over to photograph my Theme Thursday entry, I took a quick 5-minute walk through Pioneer Square, one of the many great places in the beautiful city of Seattle. I have several fond memories (like go-go dancers at Doc Maynards!) and a few not-so fond memories (like being held-up at knife-point!) from this area of the city. If you are into architecture, this is the oldest area of Seattle, and filled with amazing old buildings.
The heart of Pioneer Square is Occidental Square, a beautiful little park with a leafy canopy of green above it...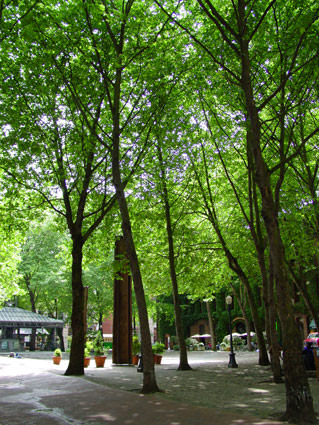 A friend introduced me to the J&M Cafe and Card Room (the oldest bar in Seattle) which is home to my most favorite shooter drink... The McNasty! While it's not the same as ordering up a tray of McNastys with a bunch of friends, you can make this yummy concoction at home... fill a shot glass half-way with hot coffee. Add Sambuca Liquor and then float a little Bailey's Irish Cream on top... fantastic!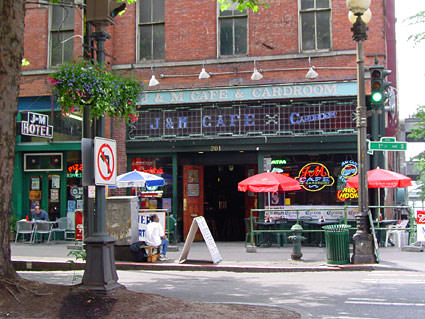 Not many people realize that UPS (United Parcel Service... those delivery guys in the brown trucks) was started in Seattle. At the very spot that UPS began, they have created this amazing little oasis in the middle of Pioneer Square and called it "Waterfall Garden." When work-related stress takes me to the breaking point, just ten minutes sitting in this amazing little park can work wonders...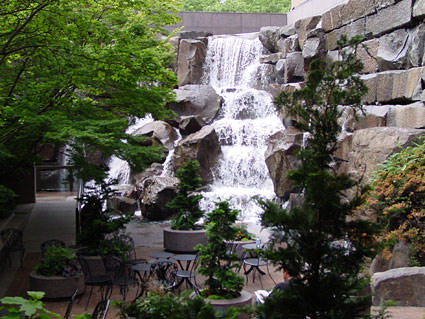 One of my favorite places in the Square is the Elliott Bay Book Co. In a day and age when wonderful old book shops are being replaced with online behemoths like Amazon.com, places like this are a true treasure. The eclectic and well-informed staff has littered the shelves with small cards pointing out their favorite books and other items of interest, which makes browsing here a real treat. I try to support this nifty store by buying a new book every time I visit...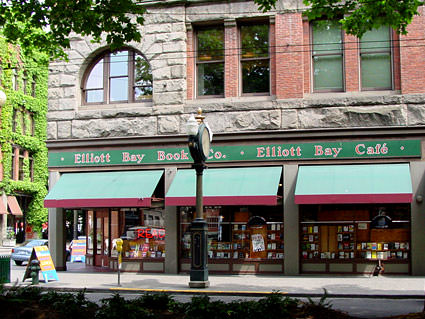 Sure the Space Needle and Pike Place Market are worth visiting in Seattle, but if you ever come to this wonderful city, you owe it to yourself to wander through historic Pioneer Square and discover all of its wonders for yourself.