When it comes to what people like to read here, I don't really care to analyze it. I write what I write and people can choose to read it or not. So when it comes to visitor counts and popularity indexes, and all that kind of stuff... I'm just not that interested. Mostly because stats packages are just too darn complicated to be bothered with.
There are two things I do need to know, however...
Bandwidth Usage. Since I am always riding the bleeding edge of my bandwidth allowance, I try to monitor this a few times a month so I can make adjustments that might keep me from having to spend extra money over my 80gig allotment.
Broken links. Nothing pisses me off more than following broken links, and so I try very hard to make sure I don't have any.
The bandwidth is easy enough to monitor, because it's right on the front page of my site control panel. The broken links, on the other hand, are a mess to ferret out of the error log and link referral listings. You can never seem to get broken links without wading through a bunch of crap, and often times I just don't bother.
Enter Mint.
This really nifty app gives you a smart and streamlined view of statistics for your site at a glance. I've been running it for only a few hours, but already find it indispensable. It's all the things you want to know, without all the junk that gets in the way. As if that weren't enough, it's beautiful to look at too, with a web interface that features dynamic resizing and customization to die for.
Want to know what pages are popular? It's right there, sorted however you want it...
And note the error page. Now that I know about it, it was a simple fix. Bingo. Exactly what I wanted to know. But there's tons of other stuff too... referrers, visitor count break-downs, even the searches people are using to find you, all arranged how you want to look at it...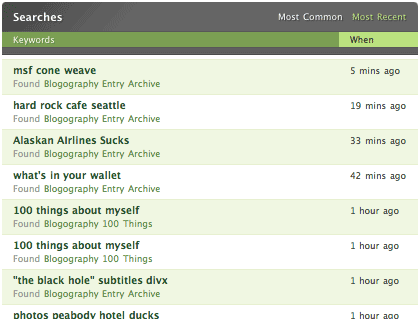 Pretty sweet. But Mint is also extensible by using easy-to-install modules called "Peppers" (for Pepper-Mint... peppermint... get it?!?). They currently have a Pepper that monitors internal searches, and another that displays browser stats...
Well that's depressing.
Again, I realize that all this information is available in the dozens of stats packages out there, but it's never been this easy to visualize and understand. All you have to do is drop a line of JavaScript into the pages you want to monitor, and Mint does the rest... all with the cleanest, most elegant interface you could possibly hope for. And did I mention that there's a Dashboard widget for MacOS X as well?
The truly shocking bit is that all this only costs $30. A bargain at twice the price. Especially when you factor in that author Shaun Inman provides world-class support for his product. I was having some troubles using Mint with my virtual domain, and he reset the license so I could install it just minutes after I emailed him the problem... and it was approaching midnight at the time! Try getting that kind of help from Adobe or Microsoft.
Anyway, if you are looking for a way of monitoring your web stats that's quick and painless, Mint is worth a look. Just be sure you can meet the requirements and run the compatibility test before shelling out your $30.