After my experiences at the towers, I still had time to kill so I went to the Shanghai Aquarium. This is a truly spectacular place with dozens of beautiful dioramas that entertains you both above and below the waters. There are also several underwater walkways where the fish swim all around you. I've seen this kind of thing before, but never has it been used so ambitiously.
This is a really cool aquarium... certainly one of the best I've been to that I can recall...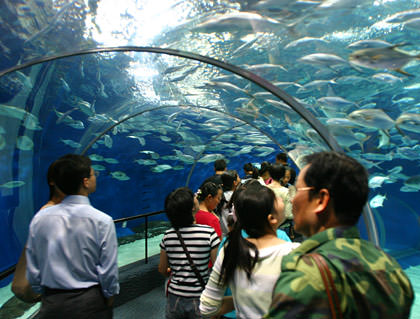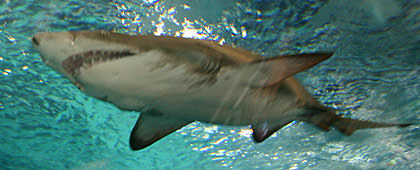 This little guy was continuously reaching into the water to "pet" the reef sharks, sting rays, and other fish (despite a sign warning in English and Chinese not to do it). I was wondering if there might be piranha in the tank as well, and was worried that he would end up missing a finger or something...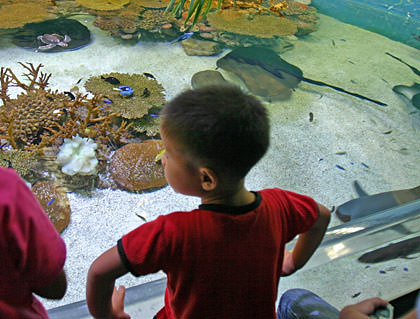 After the aquarium, I needed to go to the other side of the river to meet with some friends for tea. I decided to take the "Bund Tourist Tunnel Tram" which actually goes through a tunnel UNDER the river. It's a psychedelic light show that's pretty bizarre. I think it's actually meant to be an audio-visual art project, because you've got a man speaking english who boldly introduces the various shows with odd phrases like "Acid Lava" and "Star Swirl." Afterwards, a lady will repeat the words in Chinese, but very softly. It's a unique experience, I'll give it that much.
While waiting for my friends, I wandered around the area for a bit. Eventually I spied a tiny kitten, barely bigger than the palm of my hand, who had to come and say hello. I wanted quite badly to take him home, which happens a lot when I travel (like here and here, for example). I guess cats must like me...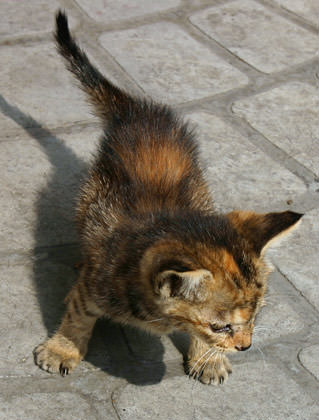 I then ran across this sign, which I thought was funny (also something I've done before)...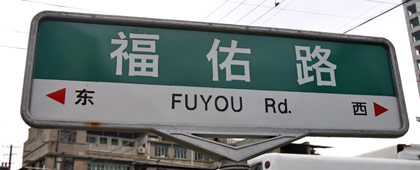 After tea, my friends and I walked through the cool shopping district in the area. Right in the middle of it all, there's what I think is a "wishing tree" where you can toss a ribbon with a coin attached into a tree. If the ribbon stays up there, your wish comes true. I don't know about all that, but it was a very beautiful site...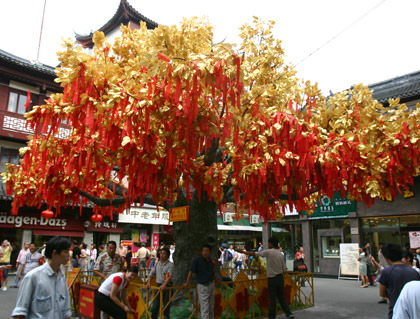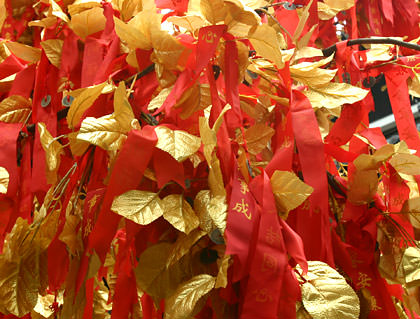 Apparently Starbucks is taking over the world, even in The Middle Kingdom. This has to be one of the more interesting I've seen...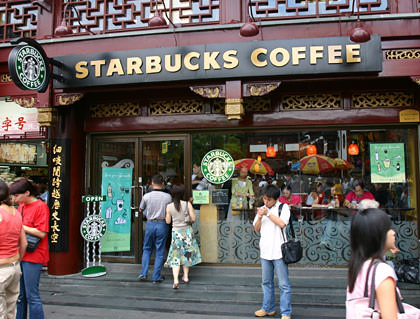 In the shopping district, you can buy just about anything. A-N-Y-T-H-I-N-G! I saw gloves, scouring pads, toys, kitchen utensils, clothing, shoes, antiques, and everything else you can imagine. Since I am not much of a shopper, this is all lost on me. About the only thing I really wanted was a Chinese lantern, because they look so cool hanging in the shops...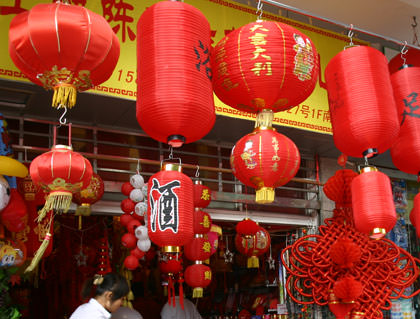 Once our meandering and chatting was over, my friends went off to meet with their family so that they can discuss their plans for heading up to Beijing on October 1st to celebrate "National Day" (named for the founding of the People's Republic of China) which is the most important of Chinese holidays, and is celebrated for an entire week.
I said my goodbyes, promised I'd look them up in Beijing when I get there, and then headed off to The People's Square and the Shanghai Museum.