Today was a very full day with lots to share, so I will probably be breaking the time into multiple entries.
This morning I decided to stop Pudong-side and go up the tallest building in China, Jin Mao Tower. It is a beautiful building with breathtaking views of the city from the 88th floor observation deck. This is looking towards Central Shanghai, with Pearl Tower foremost in the shot...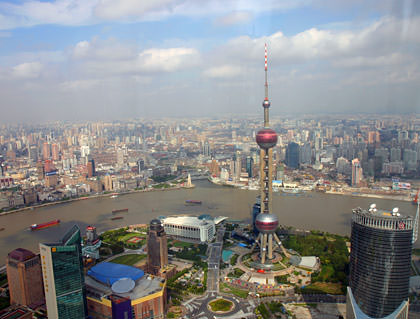 They have a window inside the tower so you can look all the way down to the reception lobby below. Everything is bathed with a golden light, so it is quite beautiful...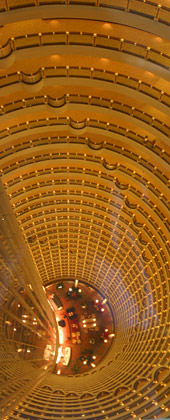 From Jin Mao Tower, it is only a short walk to Pearl Tower. This is a mighty cool structure, and you can go all the way up to the tiny third "ball," which they call the "Space Module"...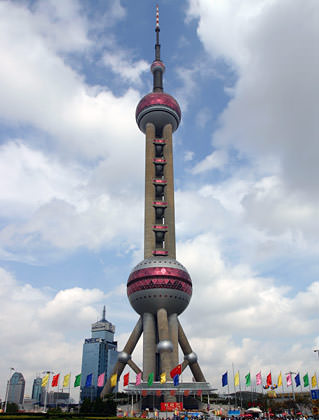 This is looking back toward Jin Mao Tower...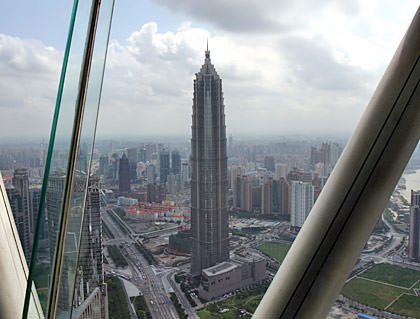 And then the opposite side, toward Central Shanghai...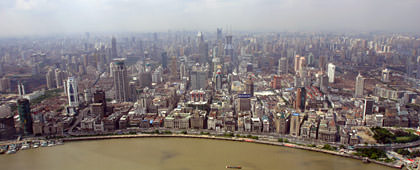 The Chinese people are very hard working and kind, and their friendly demeanor is what makes Shanghai such a great place to visit.
Until it's time to queue.
Once it's time to form a line, the exceedingly warm and gentle Chinese will turn into a dragon. They will push, shove, weasel, cut, squirm, mangle, cheat, and no doubt kill to get ahead of you in the queue. Men, women, young, old... it makes no difference. I have had old women with canes, use their stick like a wedge to push me out of the way so they can get in front of me. There was one man who couldn't squirm past me so he SQUATTED DOWN AND CRAWLED PAST ME!! It is truly shocking to see this kind of behavior, because it is so unexpected. You really have to see it to believe it, and even then you may not trust your eyes.
There was a group of British tourists ahead of me in line for the Pearl Tower elevator. If you've ever been to Great Britain, you know that they have a natural talent for queueing... almost as if it were in their DNA or something. Every line in the country is orderly and very proper. Because of this, even more amusing than watching the Chinese do everything in their power to get ahead in line, was the horrified reaction of the British tourists watching it happen. They were mortified, and could not stop talking about what they were witnessing. Listening to their conversation was worth the price of admission!
This is not true of ALL Chinese, of course, but it is a high enough percentage that you grow tired of it very quickly. It's almost so bad that you don't want to visit any attraction with a queue. Oh well. After a while I developed some meager abilities to combat the line-cutters (usually making myself as wide as I can, holding on to rails, and using my backpack as a shield), so I imagine it gets better with practice.