Last night I arranged to hire a car and driver for today. For 900 Renminbi (about $110 USD) you can be picked up at 7am and then spend the next 9 hours doing whatever you want. A taxi hire would have been cheaper, but I wanted an English-speaking guide to take care of me, and that costs extra. Turns out it was a good move anyway, because my driver was able to explain many interesting facts about the countryside and how the people live there. It also meant that I could add or change my itinerary without any translation hassles.
I started by visiting the Ming Tombs, which house 13 of the 15 emperors of the Ming Dynasty. The entrance to the grounds, called "The Spirit Way" is a nifty path that's guarded by these amazing animal and mythical beast carvings...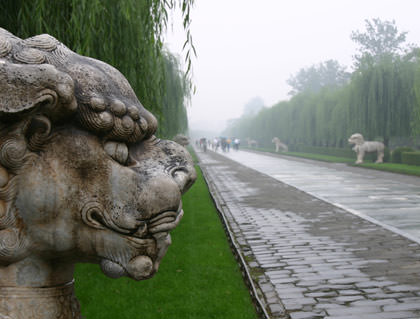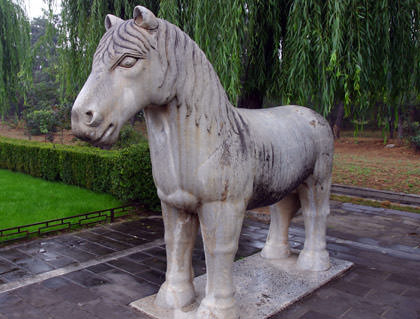 My favorite was this guy because he's got some freaky hair going on...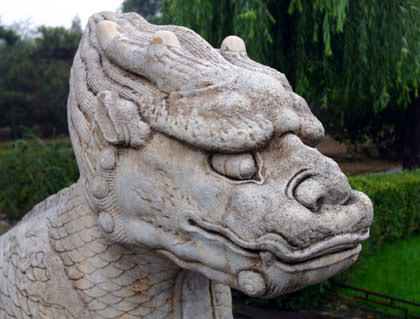 There wasn't a monkey, so I decided to add one (nicely distorted by my wide-angle lens)...
The tombs themselves are not very extravagant but they are interesting. Only one tomb is excavated so you can go down and explore it, but there wasn't much to it at all. Probably because they filled it with a bunch of the Emperor's concubines and buried them alive or something.
It's the little details that just blow you away...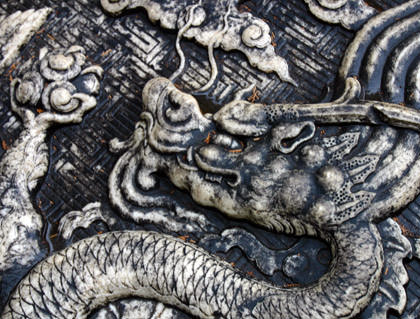 Now that I've seen all this, it has given me definite ideas as to how I want to be buried.