Yesterday I told my driver not to bother picking me up until 7:30, since nothing really opens until 8:00am. So I awake at 7:00 and look out the window only to see yet another dreary, gray-sky morning with mist limiting the visibility in all directions. Just another depressing day of poor weather in Beijing! Oh well, at least it won't be raining for my trips to the Forbidden City and Temple of Heaven.
With the conditions so dreadful, I'm in no hurry to head out into the crowded streets of Beijing, and drop down to the lobby at 7:25am to find my driver waiting for me...
Driver: "I have something to tell you."
Dave: "Uhhh... okay."
Driver: "The Great Wall is very important to you?"
Dave: "Yes."
Driver: "Most important to you maybe?"
Dave: "Errr... yes?"
Driver: "I think so. This morning I call Mutianyu and they say no rain. No clouds. Is clear."
Dave (trying desperately to not let my disbelief show): Really?
Driver: Yes. In city weather is bad. But in mountains it is good. No rain. No clouds. Not foggy... is clear. I call for you.
Dave (my interest piqued): So it is sunny and clear skies in Mutianyu?
Driver: Yes. I can take you back again.
Dave (with nothing to lose): Okay. Let's go.
And the entire way to Mutianyu I look out my window to see nothing but fog and mist... the likelihood of there being clear blue skies seems laughable, and I begin to wonder what the scam is. But then we round a corner, and all of a sudden the weather is drastically improved. We approach The Great Wall, and this time I can actually see it.
Now THIS is what I am talking about...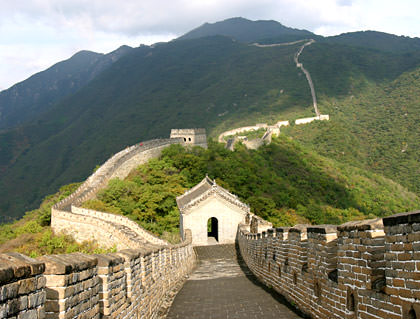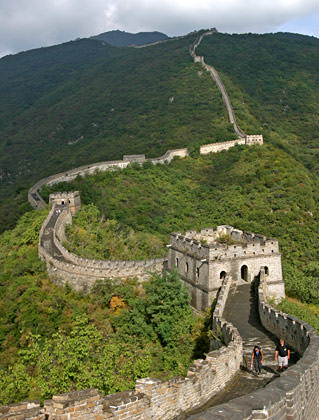 Yes. Needless to say, my driver is getting a big-ass tip.
UPDATE: I went to the "Mutianyu" section of the wall, because I was told it was less crowded with better views. The more common tourist spot is the "Badaling" section, because it is closer with easier access and closer to the Ming Tombs. There was a photo of the Badaling Wall in the China Daily that made me glad for my choice...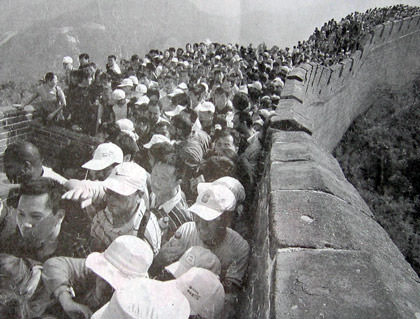 Yikes. Compared to this, Mutianyu was positively deserted.