I've just spent an obscene amount of time trying to figure out where the photo I posted in my previous entry was taken. I started by searching for the filename on all three of my computers, but all the hits were wrong. After that I searched for filenames around the image name, but no dice.
Then I went through every image I have digitized on my PowerBook. This is fairly easy because they're indexed in iPhoto... all 5432 of them. But nothing matches and nothing looks close. Since the date on the file is January of 2005, that doesn't help, because I know it's not a photo of Barcelona or Cologne. In February I was in Tennessee, Alabama, Louisiana, and the Florida panhandle... which is much more likely, but it doesn't fit anywhere.
Next I went through my digital photo archives, which is an additional 3100 photos. Nothing.
Finally, in a last-ditch effort, I work backwards through all my travels and try to match the skyline with a Google image search through all the likely cities it could be. Nothing. Not-so-likely cities? Nothing. Unlikely cities? Nothing. It's at this point I am ready to give up. I have no clue where the photo was taken.
But then I get a little bit smarter. This time I don't try to match the skyline, but buildings IN the skyline. I get lucky on my fifth try...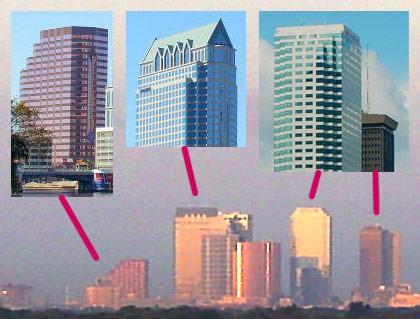 The reason I had such difficulty in recognizing the skyline is that the photo was taken at a bizarre angle... not the "typical" shot that is customarily shown. But the buildings do match when the photos are flipped and you look carefully enough.
It's Tampa, Florida...
...as seen from my hotel room at the Hard Rock Hotel and Casino just outside the city. I was there in May of 2004, and even blogged about it. I believe that I took the photo to accompany a comment in my blog entry about the "Tampa skyline" but the photo didn't turn out very well, so I ditched the idea.
Little did I realize how insane it would make me a year and two months later, or I would have never pressed that shutter button.
Now I think I can go to sleep.
Movie Quotable of the Day:
"Those who do evil to others... the killers, the rapists, psychos, sadists... you will come to know me well."
Day-Before-Yesterday's Answer:
Rock Star
(2001) with Mark Wahlberg and Jennifer Aniston.