In-between jobs in Spokane today, I decided to drop by "The Comic Book Shop" to see if I could track down a book I've been trying to find for quite a while now. I drive down Division St., arrive at Sharp Avenue, and realize I must have missed it. So I turn around and drive down Division again... still not finding it. Thinking that I must have somehow forgotten where it is, I turn around and pull over. I have a photo of The Comic Book Shop on my PowerBook, so I figure there might be a clue as to the location. Using the photo, I'm able to find the building, which is now a National Guard Recruitment Center, complete with Army jeep out front...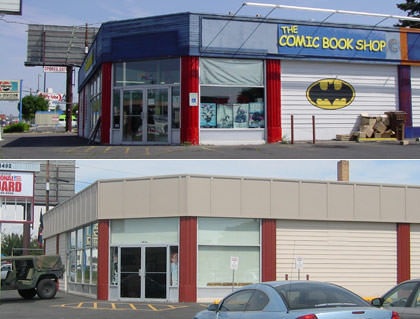 A pity they painted over the Batman emblem... they might have better luck getting people to join up. Who wouldn't want to fight crime with Batman?
Anyway, I go back to my hotel and grabbed a phone book to see where it had moved to. But the phone book still lists it on Division, so I thought it was probably an old book. On the verge of losing my mind, I call The Comic Book Shop to find out what in the heck was going on... only to learn that they moved from 1402 Division to 1401 Division... DIRECTLY ACROSS THE STREET!! And sure enough, there they were. Sitting there with a big "ZAP!" and "POW!" painted on the side of the building in bright colors.
I was so focused on where I thought it was that I didn't see where it actually was, even though it was staring me right in the face. I even got out of my car to take a picture, stood right in front of it, and didn't see it. I feel more than a little stupid about that.
To top it all off, they didn't have the book I was looking for.
But all was not lost. A quick trip to David's Pizza for lunch revealed that they actually had two slices of Da Vinci Pizza waiting for me. Now THIS is what the perfect meal is supposed to look like...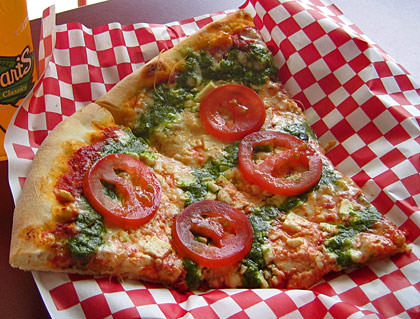 Fabulous.
Oh yeah, and for those who were curious, I think the restaurant was built in an old gas station, then they bought the building next door and expanded into it. When I examine the concrete in front, I see an outline of where the gas pump "island" used to be. That's their "Pizza Emergency Response Team" fire truck out front...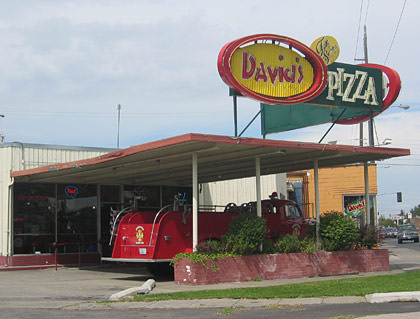 Don't worry, I'll be returning for dinner tonight. It's not like I really have a choice in the matter.