As I came off the bridge and rounded the corner, I saw a girl pulled over by an undercover policeman. She was crying her head off as the officer wrote her up, which I found funny for some reason. What a bastard I am. Thirty minutes later, as I drove back home to pick up my luggage, the policeman was long gone, but the girl was still sitting in her car there, red-faced and crying. I'm assuming that it was just a speeding ticket, which begs the question: if getting a ticket is going to cause you to sob uncontrollably for a half-hour, then why exceed the speed limit? Why risk it? Seems pretty stupid to me.
The three hour drive to Spokane (pronounced Spoh-can) was uneventful. It's always uneventful because there's nothing very interesting between Cashmere and Spokane. Just scrub brush, fields of wheat, and wide-open spaces. The speed limit is 70mph, but should be 100mph, because there's nothing to hit along the way.
When I finally get to Spokane, I do not pass go, do not collect $200, do not check into my hotel, do not even stop for the bathroom... I drive directly to David's Pizza, which makes the 3-hour drive actually worth the trouble...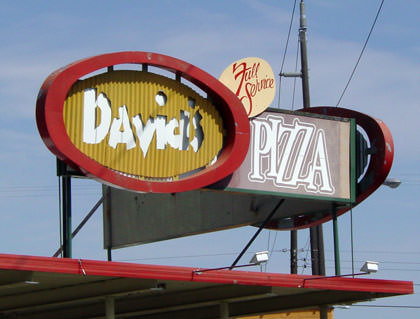 Unfortunately, they only had one slice of Da Vinci pizza left, so I had to get a slice of cheese to go with it. And, of course, a bottle of Stewart's Orange n' Cream soda...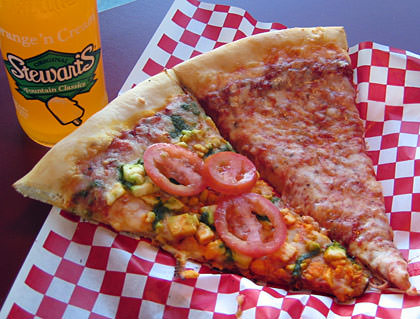 For those who are curious, the Da Vinci has Mozzerella and Feta cheeses, with basil pesto sauce and fresh tomatoes. I haven't confirmed it yet, but I'm pretty sure they sprinkle crack cocaine on there as well. It would explain my addiction to the stuff.
But telling you what's ON it doesn't fully explain how it TASTES. Which is amazing. I've been around the world a dozen times, eaten a lot of pizza over the years, and a slice of Da Vinci is the best it can get. Each bite is like that feeling you get when a nice tequila buzz just starts to set in... that kind of deliriously happy high you get when your mind starts to float away, but you're not quite drunk yet.
Followed by three orgasms and a full-body massage.
Yeah, it's pretty good stuff. If you're ever in Spokane, you'd be pretty darn stupid not to drop by the corner of Hamilton and Boone to have a slice. I'll be eating there again for lunch and dinner tomorrow, and would probably go back for breakfast if they were open that early.
Movie Quotable of the Day: "He's not a President... he's an ordinary person. I can kill an ordinary person."
Day-Before-Yesterday's Answer: Weekend at Bernie's (1989) with Andrew McCarthy and Jonathan Silverman.