My fantasy of getting more than four hours of sleep for a long day of travel did not come to pass. This is probably a good thing, because a zombie-like state helps dramatically when trying to ignore the plethora of morons that I'm bound to encounter.
Like now. As I sit here at the Seattle-Tacoma International Airport, some rude bitch is screaming into her mobile phone about how horrible her vacation was. Needless to say, the rest of us here are just riveted as to the juicy details... broken shower, no hot water, not enough towels... and on and on. I try to imagine how anybody could possibly want to hear this shit, and my sympathies go out to the person on the other end of the line.
It's not all tragedy though. Whilst looking for a magazine to kill my two-hour layover, I see Elizabeth Hurley staring back at me from the cover of VEGAS...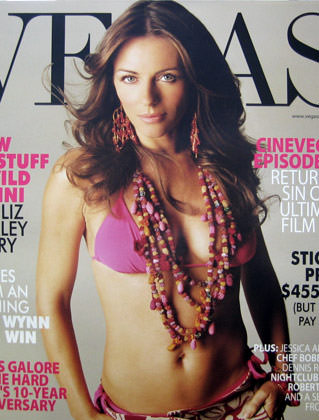 Sure it's only a one page interview, but there are four amazing shots of the most beautiful woman on the planet inside, so I don't much care. I mean, damn! Faint with hope that she is promoting a new movie or something, I race over to her entry on IMDB and see that she still doesn't have anything past Method waaayyy back in 2004. Shucky darn.
Oooh ooh! First my flight to Seattle was oversold, now my flight to Minneapolis is oversold... and somebody at the check-in counter is very, very unhappy that he doesn't have a seat yet. On one hand, I can't blame him but, on the other, he will probably get on when they release seats at the half-hour mark (and we're 45 minutes away yet). When that happens, all his crazy antics will have been for nothing, but oh well. I suppose there's no point in telling him that he wouldn't be in this predicament if he had shown up the recommended 90 minutes early instead of 45.
I keep having Japan flash backs due to my delirious state of semi-consiousness. The first time was while riding the airport subway... the automated voice-box was cycling through a few different languages as I was nodding off. Suddenly I hear Japanese, snap awake, and then see the LED signs are in Japanese as well. For a period of two seconds I am in a full-on panic wondering how I got to Japan. And in the middle of typing the previous paragraph, a Japanese tour passed through the waiting area and I was back again.
I don't know if this means I've been to Japan too many times... or not enough.
I still can't find any current news as to the state of the original London Hard Rock Cafe catching fire yesterday. BBC News hasn't updated since last night. There's a few photos on Flickr, but it's difficult to tell anything. Perhaps they'll tell us what happened on Monday?
Argh! Some idiot just sat next to me drenched in cologne... he reeks of the stuff. It burns. IT BURNS!!! I just know I'll be sitting next to his stinky ass on the plane. I'm lucky that way. Is it wrong for me to sit here and hope he has a heart attack before boarding? Probably. I am such a horrible, horrible person.