I've spent the last several hours attempting to organize my travel arrangements for the next two weeks. It's a good thing I did, because I forgot a rental car for Boston and a hotel in Hartford, Connecticut. Usually I don't make mistakes like this, but my overwhelming work schedule for the past several weeks made it easy to overlook things.
I just hope that I can get some sleep tonight so I can get up at 4am tomorrow morning. Argh. The good news is that if things go as planned, I'll accomplish a few nifty things next week:
Visit the Hard Rock Cafe at Foxwoods, which will once again allow me to claim that I've been to every Hard Rock property in the USA & Canada.
Finally see the beautiful Museum of Fine Arts in Boston, which houses the largest collection of Monets outside of Paris.
Stay at The Lenox, a historic Boston hotel that has been booked solid for all my previous trips.
Visit a very good friend who I haven't seen in almost two years since she moved from Seattle.
Finally color-in the states of Maine, Vermont, and New Hampshire on my Map of Visited States (just seven left to go after that).
Still trying to find time to work on Dave's Bad-Ass Blogography Show. I don't know why I thought this was going to be easy... because every step has been horrendously difficult. The animation alone takes hours for even the simplest things. I guess the good news is that once I get a sequence figured out, I can reuse the movements in other shows. I'm hoping this means that future episodes will come together much faster than this one.
Another major challenge is getting the cartoon likenesses for my guests to look even remotely like the actual people they're supposed to represent. I killed an hour story-boarding the sequence where that freak Jared (from those idiotic Subways commercials) appears. The segment requires building two additional sets and some challenging props, but I think it will be worth it...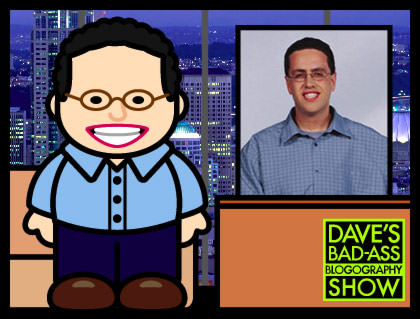 I can't decide if Jared's appearance on the show is funny or cruel, but I don't really care. It's not my fault he makes those stupid-ass commercials which are so grossly misleading people. What an annoying, sack-licking Subway whore.
Movie Quotable of the Day:
"Debbie? Yeah, Debbie's here. Who's this? Ralph? Well Ralph, Debbie can't talk right now... my dick's in her mouth. How about I have her call you back later when I'm done?"
Day-Before-Yesterday's Answer:
The Dish
(2000) with Sam Neill and Patrick Warburton.