Here's yet another "I don't usually post story links here, but this one is just too disturbing" type entries.
Over at Boing Boing, they came up with a scary link about a trend in Photoshopping little girls to make them look more "angelic." This is not a little touch-up here and there, it's more like an entirely new painting of your child, but dressed like a prostitute with big, pouty lips and enormous manga-style eyes that look like they're made of glass.
I think it makes them look like "Dead Hooker Babies" and it scares the crap out of me...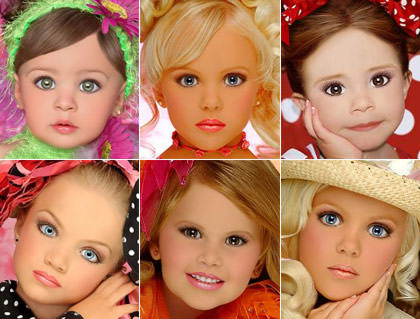 WTF?!? I mean, these people DO realize how many perverted child-molesting freaks are out there... don't they? Why would you invite their attention by doing this to your child? Even more puzzling, what parent would want to turn their kid into a hooker Barbie doll? What am I missing here?
This got me curious as to what I might look like as a Dead Hooker Baby. Probably something like Jared Leto (but without his charisma and acting talent)...

Or maybe Chris Rock (but without his brilliant sense of humor, millions of dollars, or hottie wife)...

Or even Pamela Anderson (but without her, well, you know)...

The mind boggles. And now I'm going to see if I can squeeze in one or two hours of sleep before I have to go back to work. Bleh.