Today something rather odd happened... my work was pushed back a full twelve hours. Stuck out in the Wisconsin countryside with nothing to do, I decided to meet up with a friend from Illinois for a chat and then bum around Milwaukee for the day. After a late breakfast with my friend, he went back to Joliet... but I did not go to Milwaukee after all.
I went to Iowa.
Partly because I've been to Milwaukee dozens of times and have already done the stuff there I am interested in, but mostly because I wanted to visit "Field of Dreams."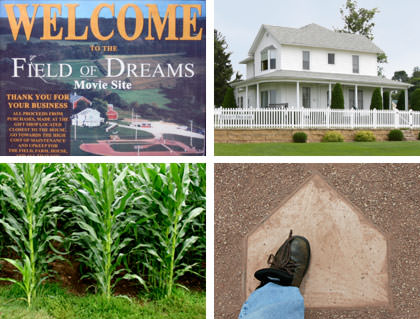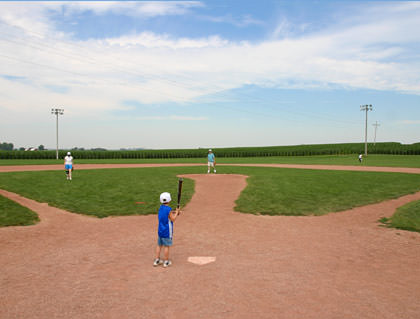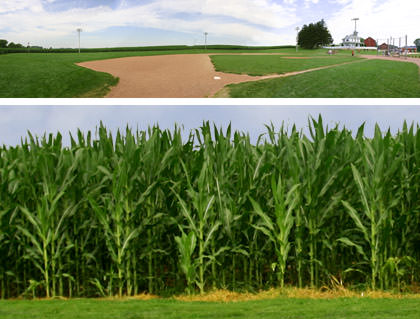 If you've read my blog for a while, you probably already know that Field of Dreams is my favorite movie of all time. It's one of the few films I honestly believe to be flawless. There is not a single moment I would change. And since it has James Earl Jones in it, I guess that kind of pushes it "beyond perfect" in my book.
"If you build it, he will come."
The corn field where the movie was shot mostly belongs to the Lansing family of Dyersville, Iowa, though a portion of it (left field from the 3rd base-line over) belongs to a neighbor. After filming was completed, the neighbor plowed under his part of the field and re-planted. But the Lansings decided to leave their part untouched because, much to their surprise, people actually did come to see it. Lots of people... from all over the world.
To help pay for upkeep, the Lansings added a souvenir stand to the attraction so that they could sell T-Shirts, hats, postcards, and such. Unlike the movie, however, no ticket is required, and guests can look around for free.
The popularity of the attraction did not go unnoticed.
Eventually, a group of crap-weasle investment bankers struck a deal to lease the land that the neighbor had plowed under. They then restored the missing part of the baseball field, open up a competing gift shop, and cashed in on what the Lansing family had so generously begun for the film's fans. I guess the good news is that you can see the complete field now... but it sure was a lousy thing to do. Fortunately, there are signs posted so that guests know where their money is going.
While I was visiting, dozens of people came and went, which really surprised me. Even more shocking: according to the souvenir book, busy summer weekends can pull in over 3000 people. This is kind of bizarre for a movie that's approaching 20 years old.
After running the bases, buying a T-Shirt, and sending some postcards, I decided to make the most of my 7-hour round-trip and drop by the nearby city of Dubuque, Iowa to have a look. It's an interesting place, filled with an eclectic mix of building styles that range from beautiful to bizarre. One of the most unusual is the courthouse, which is a scary blend of styles that doesn't really seem to come together...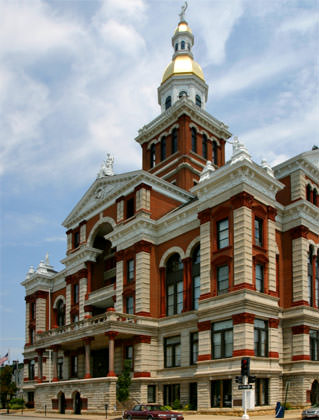 Bleh. I'm tired from driving all day. A pity I have to be to work in an hour.
Movie Quotable of the Day:
"The only thing we had in common was that she was from Iowa, and I had once heard of Iowa."
Yesterday's Answer:
Caddyshack
(1980) with Bill Murray and Chevy Chase.