Most people who visit my blog and have something to say about it leave comments. But a lot of people send emails as well, even those who leave comments, and I never know what's going to bring it on. Usually I have to do something people consider to be bad taste (like setting a clown's ass on fire) or say something controversial (though I am still trying to figure out how wanting people to be happy is controversial), but I just never know. This morning the emails were about my entry from last night about wanting my own talk show...
"Are you serious about that??? A DAve cartoon show would be so cute!!!"
Errr... yes... I am quite serious. I'm serious about trying it, anyway. You see, I love the idea of podcasts, but I would completely suck at it (like most people do). And every time I run across a fantastic podcast, my jealousy soars. The one who is most responsible for my jealousy is Mr. Jerz. All he does is ramble on about stuff that's on his mind, but he's really, really good at it. Unlike Jerz, who actually has a "radio voice," I most definitely do not. I am going to need something to make me interesting. But all I know how to do is draw goofy cartoons, so that's what it's going to have to be.
The problem is that animation is (in the immortal words of Dubbuya) hard work. For instance, just to lip-sync with the audio is a massive chore. I spent days analyzing Wallace and Gromit cartoons, and spent close to six hours drawing the mouths necessary to create convincing speech...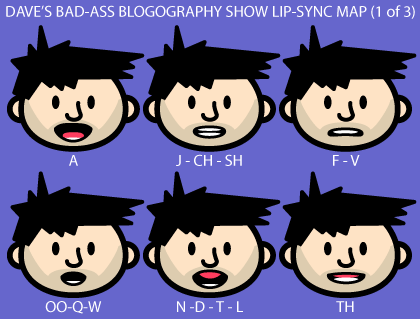 The idea is to emulate South Park (which I worship). They have jerky, crappy animation... but the mouths are always perfectly in sync, so they can get away with it. Since I'm doing a talk show, I figure that the mouths have to be perfect, and I wouldn't worry about the rest. I thought it would be easy, but it absolutely is not. This is some difficult shit right here. There are "sets" to be built, scripts to write, storyboards to draw up... you'd be surprised at how many hours fly by on the simplest of things.
So, the bad news is that it is going to take a long while before I can actually post the first edition of Dave's Bad-Ass Blogography Show. There is a scary amount of work left to be done (and, if anybody is interested, I'll keep you apprised of my progress). The good news is that I think it will be friggin' sweet once it has been completed! Not only can my cartoon persona do things that I could never do in real life (yes, he packs a gun and is NOT afraid to use it), I really can have guests like Elizabeth Hurley and Paris Hilton on my show!
I sure hope that it gets easier after the first episode (blogisode?) though.