Wouldn't it be great if you could send a bill to people who waste your time? I mean, if time truly is money, then shouldn't I get paid when forced to interact with some dumbass who steals away minutes I could have spent doing something more important?
I think about this often when dealing with airlines, phone companies, technical support, and other organizations that seem to excel at pissing away my valuable time. Yesterday, as I was trying to make my way home, I had more than my fair share of it. In fact, I think I should have netted out around $1000 in dumbass-billable hours.
But it's not all bad news, while trying to catch up with work today, I've been watching all the TiVo-ed television shows I missed last week. Alias, which has been taking a nose-dive as of late, finally managed to churn out a decent show (with Lena Olin, no less!). Lost was kind of an interesting stop-gap until this week's season finale (which looks incredible). Grey's Anatomy was brilliant as always. The Tarantino-directed CSI did not disappoint and was suitably disturbing (I never thought George Eads had it in him). And even The O.C. was unexpectedly entertaining. Good television is so rare, I feel like I've entered some kind of alternate dimension or something.
In other news, I've decided to host my own talk show...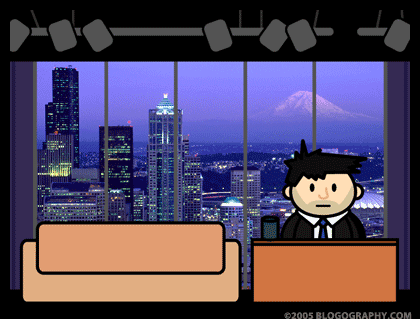 My first guests will be Elizabeth Hurley, Batman, Paris Hilton, and (time permitting) President George W. Bush. I'm thinking there will also be a segment for "Stupid Jared Tricks" where I make Jared (from the dumbass Subway commercials) jump in a tank with hungry sharks and other cool stuff.
If Tony Danza can do it, how hard can it be?
Movie Quotable of the Day:
"Just the idea of having sex with another woman creeps me out... but if we're still single at 30, ask me again."
Yesterday's Answer:
The Godfather: Part II
(1974) with Al Pacino and Robert De Niro.