Somehow it became May and I didn't notice. Probably because I am too busy fighting with vending machines and watching television.
Of the two activities, watching television seems to be what I am more successful at. I say this because I am typing this entry one-handed after having damaged my other hand beating up a vending machine that stole my money. Fortunately, I did manage to shake two candy bars and a bag of chips out of the deal (even if none of them were what I was trying to purchase).
Tiger Heat. Ever since upgrading my PowerBook to MacOS X Tiger, it runs much hotter. I have no idea what is going on, but both fans are running constantly and my fingertips are burning up from typing on it. Perhaps it's the processor working harder or something? I've tried setting my "Processor Performance" to "reduced" but I'm not sure it's having any effect. This is a bit troubling, and I hope somebody at Apple is looking into it... assuming it's not just my imagination. I guess if she bursts into flames we'll know for sure.
JAG. One of my favorite TV shows, JAG ended its 10-year run last week. I just don't know what I am going to do with myself not being able to look at the sweet hotness of Catherine Bell each week. Oh well. At least they wrapped up the show nicely nicely. Here's hoping that some brilliant television exec finds her a new television show right away.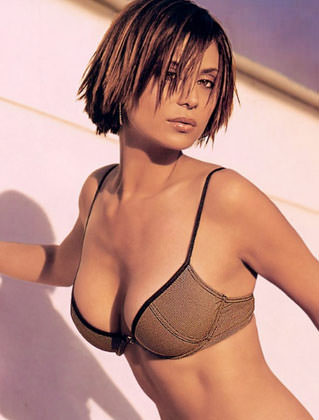 Mars DVD. According to the genius behind Veronica Mars, the first season is being rushed to DVD with a September street-date so that people who missed it can get caught up before the second season starts up again. The bad news is that there won't be time for any "extras" like commentaries and production featurettes to be included. As much as I would like to have these things, I'm just happy to be getting a release. The only thing that could possibly be better news would be if Rob Thomas's other excellent show (Jeremy Piven's Cupid, the best television series ever) was also being released.
Surgery TV. Is anybody watching Grey's Anatomy on Sunday nights? The show is excellent. The fact that Sandra Oh is in it is just icing on the cake.
Bandwidth Bust. My bandwidth usage continues to climb. I have no choice but to make a few alterations in how Blogography is arranged, or else I will top my new 80gig limit in 18 days (at the current rate). From now on only 7 days will be displayed on the front page (down from 10, which was my weekly average)... and all feeds will also display 7 days (down from 15). I apologize to those readers who only stop by once a week (since you'll end up having to go through the archives now), but there's just nothing I can do about it. This weekend I plan on chopping up the category pages into years so that the pages will serve up dozens of entries instead of hundreds. I'll also be killing trackback. Hopefully all these changes will keep me under the 80gig limit until next January when I can look for a web host with a bigger allowance (it's either that, or stop posting photos, like the one above, which I really don't want to do).
Movie Quotable of the Day:
"You know what I've learned in my seven years here at Coolidge, Timmy? I've learned that you can't treat every situation as a life-and-death matter because you'll die a lot of times."
Yesterday's Answer:
Feds
(1988) with Rebecca De Mornay and Mary Gross.