The comic book industry has seen better days. Kids are much more interested in video games than actually having to read something. Given that, you would think that comic book creators and publishers would be bending over backwards to keep their ever-dwindling audience happy.
Well, you think wrong.
Over a decade ago, there was a comic book called Hellshock which was a thought-provoking work by Jae Lee that was simply beautiful to look at. I collected the first four-issue series in 1994, and also the second four-issue series in 1997. The problem is that the second series never got past issue 3, leaving everybody to wonder how the book concluded. But since the last chapter was never published, all anybody could do was guess.
Fast-forward to today, and we have the announcement that Jae Lee has finally been "convinced" by the people at Dynamic Forces to finish his masterwork. That's good news, right? Uhhh... no. Because they are not just printing issue #4... oh no... they are printing a friggin' BOOK of the complete series #1-4 that costs $19.95 in paperback (or a whopping $49.99 in hardback, with a $149.00 super edition that also includes a hand-draw sketch). WTF?!?
I'm sure that's fine for people who have never heard of Hellshock before, but what about the people (like me) who have already paid $9 for issues 1-3? Well, I guess we're just f#@%ed. Because if all somebody wants to do is read the final issue (eight years late), they have no other option but to fork over $19.95 for a bunch of shit we've already read in order to get it. Greedy asshats.
So, as much as I'd like to see how the story ends, Jae Lee is not getting another f#@%ing dime of my money. I paid $2.95 each for chapters 1-3... I am not paying $20 for chapter 4. This type of gouging is a disgusting way to treat fans, and a slap in the face for true comic book geeks who supported Jae in his earlier works. It pisses me off that the only way he could be bothered to finish what he started is by waving a big paycheck in front of his nose.
Oh yeah... and, before I forget: while Brandon is on his honeymoon, I will be one of the guest bloggers over at his DOWN WITH PANTS! blog. We don't have a schedule or anything, but my plan is to drop an entry every few days. My first bit will be put up tomorrow (Saturday). I must admit, the idea of writing for somebody else has me pretty nervous... I make a big enough mess on my own blog.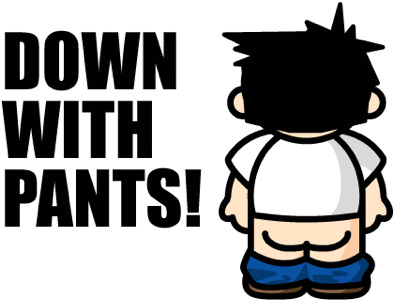 So, if you're interested (and you should be since I've got stories about Maui, cheese, baseball, and MONKEYS to be told! Yes, MONKEYS!!)... be sure to check out DOWN WITH PANTS! over the next two weeks. You'll know there's something new there from me when a "placeholder" entry pops up (as I plan to eventually copy these entries to my blog after a month or two). Have a good weekend everybody.