Okay then... will everybody who won a prize or ordered a T-shirt please just drop by my apartment and pick up your order? Yeah, that would be great, thanks.
No, seriously, anytime from 4:30 to 9:30, Monday-Friday (weekends by appointment only).
Packaging all these T-shirts is a massive chore. You have no idea. At first I was just digging through the boxes to find the size I needed for each order, but then I decided it would be faster to spread them all over the dining room so I could find them easier. Of course, that meant I had to scrub the tables and chairs to be sure everything stays clean. Then I had to sort through the shirts, but didn't have room for them all, and ended up stacking them up in the living room as well. So now shirts have taken over my apartment.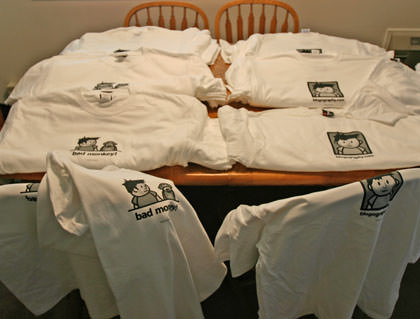 And then there's the matter of having to fold all the booklets.
And of course each shirt has to be wrapped in plastic to protect it during shipment.
And I haven't even gotten to the labeling and postage yet! Next year it's going to be sticks of gum or something that can fit in an envelope.
Movie Quotable of the Day:
"Forget it mister high-and-mighty Master Control... you're not going to make me talk!"
Yesterday's Answer:
True Lies
(1994) with Arnold Schwarzenegger and Jamie Lee Curtis.