Chicks dig my monkey.
And before you get the idea that I am speaking metaphorically here, and think that I'm attaching bizarre "pet names" to various parts of my anatomy, I am speaking of my "Bad Monkey" T-shirt. Today I decided to "test drive" a shirt to see how I like wearing it, only to find that it gets big attention from just about everybody. The chicks really dig it. "Cool shirt!" they say. "Where did you get that?" they ask. "Please make mad, passionate monkey-love to me right now!" they beg (or so I wish... particularly to the hot, hot, brutally hot babe filling up her car at the mini-mart, who I very nearly gave the shirt off my back).
For the past couple of days I've been washing and re-washing a few of my shirts to see how they hold up (answer: very well) and how long it takes before they start getting that "oh so soft" lived-in feel (answer: four washings). But today was the first time I actually wore one in public, and the response is pretty sweet. To everybody who ordered a shirt... your photos and testimonials are welcome! I need to work up a gallery or something.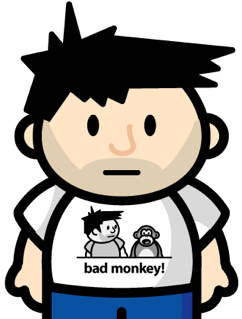 Now the bad news. I am losing major bank on these things, because the costs just keep piling up (even once the shirt has been paid for). I had expected to lose a little bit for each logo shirt, thinking it would be a small price to pay for cheap advertising. Problem is, I figure that I am now losing $1.60 per shirt. When you multiply that by 100 shirts... well, it's no longer a small price is it? So, starting today, the "sale price" has been bumped up to $8.95 (still saving you $6) which will remain until the next round of designs are added. Sorry about that.
The next step is to come up with individual foreign order pages so that I can guarantee that anybody outside the USA won't have to over-pay for shipping charges. Hopefully I'll get that finished up in the next day or two.
For everybody who has won or ordered a shirt, you have the rain to thank for me finishing packaging everything up today. All current orders will ship Monday morning (whoooooo!).
Movie Quotable of the Day:
"Sometimes you have to show a little skin... this reminds boys of being naked, and then they think of sex."
Yesterday's Answer:
Tron
(1982) with Jeff Bridges and Bruce Boxleitner.