It was forecast to be sunny and warm, but it rained all weekend, and continues to rain today. This pretty much sucks, because it looks like I won't be taking my motorcycle out before I have to leave next week. When are meteorologists just going to admit that they haven't a clue as to what the weather is going to be like, and they're just pulling a big ol' guess out of their asses? I wish I would have had the sense to become a TV weather man. It's one of the few jobs out there where you can be wrong all the time and not get fired.
But there is some good news to all this rain... Oscar is loving the weather. Last year I kept him inside all winter, and he didn't grow at all. A friend told me that trees need the cold weather so they can go dormant, and so I left Oscar out all winter this year. Just look at the little bugger now...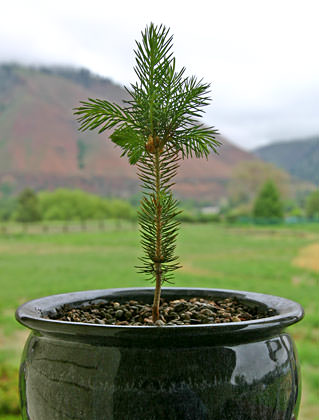 My little boy is growing up! To see what he looked like a year ago, click here.
Actually, he's growing too fast. There's so much new growth now that he's fairly top-heavy. I'm hoping he thickens out at the bottom so he can support himself... otherwise he's going to fall over and become a shrub or something. Oh well... I suppose I'll still love him anyway.
It's not all good news though. I got another piece of hate-mail this morning. This time because of remarks I made about the heinous Ann Coulter. I was told to "grow up" so then I can appreciate that "Ann is a beautiful, brilliant, true American patriot and the voice of the Conservative Majority." This just mystifies me on so many levels. I think of her more as a "skanky*, hateful anti-American bitch, who is at the forefront of dividing us as a Nation and destroying this country."
* And though she is a skank, I'd still do her.**
** If I could keep myself from strangling the bitch.***
*** Or got over my aversion to necrophilia.
Movie Quotable of the Day:
"Anti-wrinkle cream there may be... but anti-fat-bastard cream there is not!"
Yesterday's Answer:
Judge Dredd
(1995) with Sylvester Stallone and Armand Assante.