For the longest time, I was a huge TiVo supporter. I absolutely loved the convenience and wonder of it all. It's like having a friend that you know you can always count on to record your favorite shows and manage your television habits. But with each passing day TiVo finds some new way of f#@%ing up that makes me want to smash it with a hammer and leave it for dead.
The first hit was when, after five long years of waiting, they FINALLY released their TiVoToGo format so that you can offload your shows and watch them on a computer. Since I travel a lot, this was huge for me. Unfortunately, TiVo's effort was so badly crippled with DRM that it was a case of "too little too late." But, in the end, at least it was here. All I had to do was wait for the promised Macintosh version, and I'd finally have something portable to work with, no matter how messed up it was.
From TiVo.Com: TiVo is working hard to make the TiVoToGo feature available on TiVo Desktop for Mac. We are currently working on ways to enable playback on Apple Macintosh computers. We will let our customers know in our newsletter as soon as this feature is available.
But not anymore. PVRblog is reporting that development on the Mac version of TiVoToGo isn't in TiVo's future plans because of cost issues.
Ass-biting, lying TiVo bug-f#@%ers.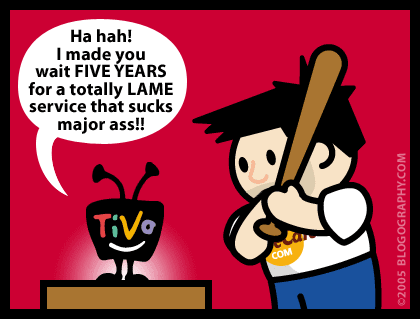 I wonder what kind of "cost issues" you will have when people start abandoning your busted-ass lame shit for something that is actually worth a crap? Something that is built for the CONSUMERS WHO PAY YOU rather than television networks? Maybe I should drink the Kool-Aid and go with a Microsoft Media Center? And isn't DirecTV coming out with their own DVR sometime soon? Or maybe I should just buy a Mac Mini and convert it into a media center for my recording?
f#@% TiVo. f#@% them up their stupid asses.