The Lego Star Wars for Xbox game may be built for kids, but I was wrong about it being easy. Sure it started out that way, but not anymore. I got stuck on The Phantom Menace section with the pod racing and had to move on to Attack of the Clones section. Then it took forever to figure out how to defeat Jango Fett. So now frustration is starting to set in a bit, because kids who find this game easy are a lot smarter than I am when it comes to video games. I am determined to beat it, however, which means it's a good thing I only get 4-5 hours of sleep each night!
Given my Lego Star Wars addiction and the workload I've had recently, there really isn't much else in my life right now. TiVo is overflowing with TV shows I need to watch, and NetNewswire is so packed with unread blogs that it's probably going to take over an hour to work my way through it. And then I almost forgot to put up my FridayQ entry yesterday, which would have been embarrassing.
Oh well. Another week to beat the game, and then I can get on with my life again.
But I digress. The real reason I am writing this entry is to help spread the good news that Veronica Mars has been renewed for a second season (thanks to wyk for the email letting me know... you made my day!)...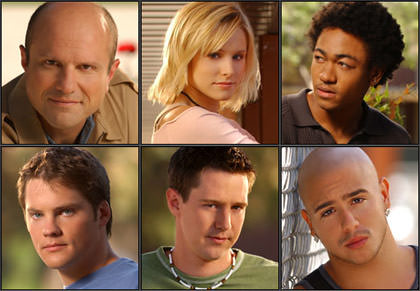 Color me shocked. Television this good is usually canceled.
Movie Quotable of the Day:
"The funny thing is... on the outside, I was an honest man, straight as an arrow. I had to come to prison to be a crook."
Yesterday's Answer:
Harlem Nights
(1989) with Richard Pryor and Eddie Murphy.