Where's the most beautiful place you've ever been? What made it beautiful to you? Edinburgh, Scotland. The architecture and atmosphere of Edinburgh's Old Town is stunningly beautiful. Every time I visit, it takes my breath away. Other beautiful places: York, England; Bryce Canyon, Utah; Barking Sands, Kauai; Bali, Indonesia; La Jolla, California; Gamla Stan - Stockholm, Sweden; Phang Nga, Thailand; Neuschwanstein, Germany; Wicklow, Ireland.
Who's the most beautiful person you can think of? What makes them beautiful to you? Well, my obvious choice would be Elizabeth Hurley, who is one of the most physically beautiful creatures on earth. But beauty can transcend the physical, which is why I find people like the Dali Lama to be beautiful as well. Other beautiful people I've grabbed from my pictures folder: Jessica Alba, Halle Berry, Katie Holmes, Kelly Hu, Salma Hayek, and Angelina Jolie.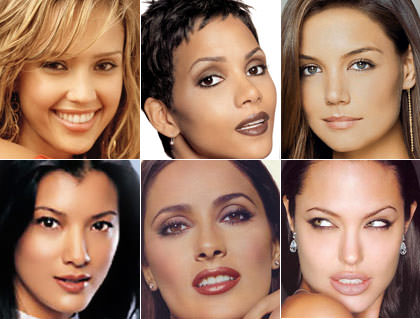 What's the most beautiful object you've ever looked at? What makes it beautiful? Hands down "The Pieta," Michelangelo's statue masterpiece... it defines beauty in art to me, and is so powerful that just standing before it is a religious experience. Other beautiful things: my motorcycle, Van Gogh's Starry Night, Petronas Towers, Diego Rivera's The Flower Carrier, my PowerBook Titanium G4, and one of Michelangelo's many, many other master-works, the Sistine Chapel.
FQ LIST: Tell us ten more beautiful things! When you think of "beauty," what one thing comes to mind for the following words:
music: Eric Sera.
movie: Field of Dreams.
book: Jonathan Livingston Seagull.
meal: Alfredo alla Scrofa.
gemstone: Sapphire.
flower: Crocus.
web site: Google.
artwork: The Pieta.
appliance: iPod.
animal: Tiger.
Beauty is everywhere at the FridayQ.
Movie Quotable of the Day:
"Bitch, I'm not playing... you gonna be the nine toe having-est, limping-est bitch in Harlem if you don't put that razor away!"
Yesterday's Answer:
The Breakfast Club
(1985) with Molly Ringwald and Judd Nelson.