I was awakened early this morning by a searing pain running down my spine. I took a pill, and somehow managed to fall asleep again. When I got up to go to work, my lower-back was still tender, but the pain was in check. But after 5-1/2 hours of sitting at my desk, the pain had returned and was almost unbearable... I had no choice but to go home and take another pill.
So here I lay in bed trying very hard not to move. I have no idea what I did to get myself in this mess, but here I am.
Fortunately, I've got the first season of The Pretender on DVD to keep me company. Boy was this great television! I had forgotten how much I enjoyed it because the show became a big ol' mess in the 3rd and 4th seasons. But Miss Parker... a very bad girl indeed... kept me watching.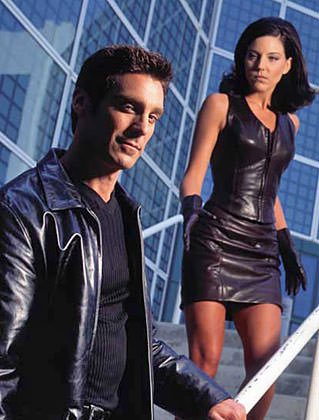 I want ice cream.
Movie Quotable of the Day: "It is a strange fate that we should suffer so much fear and doubt over so small a thing... such a little thing"
Yesterday's Answer: xXx (2002) with Vin Diesel and Samuel L. Jackson.