The best thing to come out of the U.K. since blood pudding, Red Dwarf is one of those shows I can always count on to make me laugh. The problem is that it's only shown on PBS here in the States, but rarely. On the plus side, BBC America has been releasing it on DVD, but slowly... at the rate of just two series (seasons) per year. The happy ending to all of this is that finally, after waiting three years, Red Dwarf: The Complete Series Five has finally been released. It's easily my favorite of all eight seasons, and has the rare distinction of being the only series that gets a full five-stars for every episode.
It's perfect television...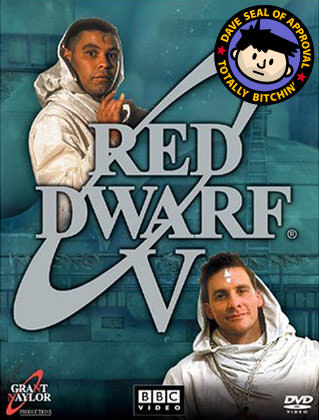 My favorite of the lot is "Quarantine" which brought forth one of the most brilliant characters ever conceived on television. Mr Flibble, the killer penguin puppet...
"Mr. Flibble is very cross."
Here is just a sampling of the comedic genius we get in this episode, where Rimmer has trapped the rest of the crew in quarantine and been infected with a holovirus that's driven him quite mad...
Lister: Well we've passed the test, Rimmer. You can let us out.
Rimmer: I can't let you out.
Lister: Why not?
Rimmer: Because the King of the Potato People won't let me. I begged him. I got down on my knees and wept. He wants to keep you here. Keep you here for ten years.
The Cat: Could we see him?
Rimmer: See who?
The Cat: The King.
Rimmer: Do you have a magic carpet?
Lister: Yeah, a little three-seater.
Rimmer: So, let me get this straight. You want to fly on a magic carpet to see the King of the Potato People and plead with him for your freedom, and you're telling me you are completely sane?!?
And "Quarantine" is just one of six amazing episodes you get!
So do yourself a favor and run out to buy a copy of Red Dwarf: The Complete Series Five on DVD today! Do it now, before Mr. Flibble gets very cross indeed!
Or, I suppose you could always check back the week of the 18th and see if you can win a brand-new copy... It's just one of the many fabulous prizes being offered up in Blogography's Two-Year Blogiversary Kick-Ass Online Celebration!