With each passing day, I lose a little more respect for my fellow human beings because people, for the most part, are stupid. Astoundingly, unfathomably stupid. And the worst part is that people are stupid not because of genetics, but because they choose to be. Nobody wants to think anymore. They want all their thinking done for them. This kind of lazy-ass approach to living enrages me to the point where I believe that the extinction of the human race is not such a bad thing.
But whatever, it's the world we live in now. Every last obvious detail has to be spelled out in nauseating detail lest the stupidity of the masses will be left standing around scratching their heads. And that brings us to the new "My Pyramid" campaign unleashed by the USDA upon an unsuspecting public. It's not actually "new-new" but instead a revision of the old "Nutrional Pyramid" developed a while back. Its purpose is to help curb the obesity epidemic that's crippling this Nation by educating people to eat healthier...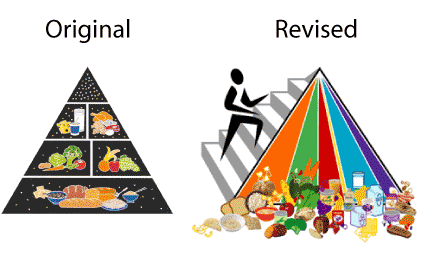 And so now I find myself compelled to ask... WHO IS THE DUMBASS WHO DREAMED UP THIS STUPID SHIT?!? And... SOMEBODY WAS ACTUALLY PAID TO CREATE THIS JANKY CRAP?!?
I mean, the original pyramid was no masterpiece, but at least you kind of got the idea about what it was trying to communicate. Even the stupidest person could see that you are supposed to be eating more breads and grains than milk and dairy. But this new pyramid is so f#@%ed up that there's absolutely no way to figure out what it is trying to tell you. When I first saw it, I thought it was some new gay pride symbol or something. I never dreamed that it could possibly be communicating any information. Probably because it doesn't communicate any information. Even a brilliant person like me would find it impossible to figure out what the f#@% it was trying to tell you. And since I am a brilliant person, here are my guesses...
Dump the contents of your refrigerator on the floor, then climb a rainbow.
Trash your kitchen, then step up to a gay lifestyle.
Stick your arms and legs in a pencil sharpener, then climb a flight of stairs to look at a prism shining on a garbage dump.
Sort your food into color groups, then look at it from on top of a rainbow to choose what to have for dinner.
WHAT THE f#@%?!! I could go on for pages about how poorly the new pyramid is designed, but I'll spare you. Suffice to say that it's next to impossible to tell what the different colored slices mean, or even how big they are in relation to each other. Somebody on the design team desperately needs to read some Edward Tufte books, because there is no way anybody is going to figure out that this pyramid is telling you to "put down that donut, eat a banana, and exercise." It's just not going to happen. Holy crap... a simple pie chart would have been easier to decipher than this disaster.
It's yet another case of the stupid leading the stupider, and your tax dollars at work. Oh well, it's not like people bother to look at this stuff anyway. Kind of like those asinine warning labels on a pack of cigarettes. People are just too stupid to pay attention, and the people paid to change that are not much smarter.
But enough of that crap...
OMG!! Did you guys see Logan and Veronica totally making out on last night's episode of Veronica Mars?!?? I was like, SOOOOooooooooo excited!!!! Logan is like so totally hot and Veronica is so cute!! And Veronica is all "what are we doing?" and Logan is all "I don't know!" And I was like totally dying and rewinding the TiVo. And then Veronica Mars broke up with Deputy Leo and I was all "OMG! SHE LIKE TOTALLY LOVES LOGAN NOW!!!" And was like "this is totally the bestest show ever!!!!" And went to bed smiling like a fool because I know Logan and Veronica are so totally perfect together!
And then the next morning I woke up and started looking for my testicles.
I thought for sure I had left them next to the television remote, but they weren't there at all. Tonight I'll tear the couch apart, because they probably just fell behind the cushions or something.
Movie Quotable of the Day:
"I don't want to be a vampire... I'm a day person!"
Yesterday's Answer:
Zorro, The Gay Blade
(1981) with George Hamilton and George Hamilton.