TODAY'S PRIZE: Dave's "Taste of Home" $100 Big Box of Gourmet Foods!
SORRY...CLOSED FOR ENTRIES!
From my home to yours... a taste of the Pacific Northwest. It's an assortment of various treats from Washington, Oregon, and Montana that I've come to enjoy over the years (and hopefully you will too). We've got jams and jellies. We've got vinegars and glazes. We've got candies and pancakes. We've got bread and fish. WE'VE GOT MUSTARD FOR HEAVEN'S SAKE! MUSTARD I SAY!!! In any event, this prize is sure to add a bit of exotic flavor to your boring culinary routine (you pizza-eating slacker you).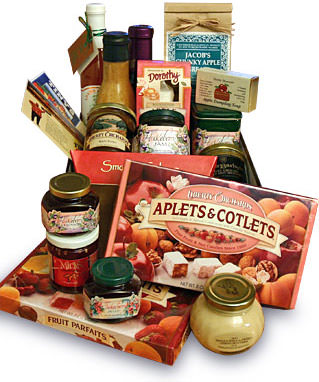 THE CATCH: Ground shipping is included to any address in the Continental US. If you live outside these 48 States, you can still enter, but you will be responsible for exact shipping charges (and this one ain't cheap... the sucker weighs TWENTY POUNDS!!). ALSO... Some countries have severe restrictions as to food imports. If you live outside the USA, please make sure that none of these items are forbidden to receive in the mail (call your local post office and see).
THE RULES: One entry per person please! Entries must be received before midnight on Friday, April 22nd (Pacific Time USA, here in Cashmere, WA). Winners will be notified on Sunday, April 24th. Email addresses will never be released, and will be deleted once winners have been notified. Winners are responsible for any customs duties or import taxes (if applicable). If you aren't in the Continental USA, shipping charges can be paid via PayPal or money order in US funds.
TO ENTER: Just send an email to tasty@blogography.com and be sure to include your name and a valid email address so I can contact you if you win.
A complete list of the goodies in the box can be found in an extended entry.

Jacob's Chunky Apple Bread Mix
(Brush Prairie, WA: $6.99).
It would probably be best if you just throw this away rather than make it. Because once you DO make it, you will just want more and more and more... it's like bakery crack or something. I just toss it in my bread machine, then devour the loaf with a stick of butter when it comes out. If my ass doubles in size over the next few years, Jacob's Chunky Apple Bread is partially to blame. Too much chunky apple bread = chunky ass.

Haus Barhyte Stone Ground Sweet-Hot Mustard
(Pendleton, OR: $4.99).
There are a lot of different mustards to come out of Haus Barhyte, but this is my favorite... mainly because it tastes
amazing
when mixed with mayo and dill relish, then spread on a hamburger.
Amazing
. If you win this one, be sure to try the "Mustard Cheddar Beer Dip" recipe on the label... if anything can make a celery stick edible, this is the stuff right here.

Kasilof Fish Co. Smoked Salmon
(Marysville, WA: $6.99).
I don't eat fish, but this tiny 3-oz. portion of Wild Alaska Salmon that's been smoked to perfection costs $6.99... so I'm guessing it must be just fabulous. I figure I have got to include at least one thing for my meat-eating readers. So here it is you fish-murdering bastards! Alaska is not part of the Pacific Northwest, but it was smoked and processed in Washington, so I guess that's close enough.
Adams Place Walla Walla Sweet Onion Wine Vinegar
(Kennewick, WA: $5.99).
Sprinkle some of this on a home-made subway sandwich or a salad and try not to have an orgasmic fit. It's a popular seasoning that people use for barbecuing fish. I'd imagine that you could also use it to repel vampires. All I do know is that the BEST ONIONS IN THE ENTIRE WORLD are Walla Walla Sweets from right here in Washington, and since I can't send you an onion, this yummy vinegar is going to have to do. Comes with recipe ideas.

Liberty Orchards Aplets & Cotlets
(Cashmere, WA: $4.99)
Liberty Orchards Fruit Parfaits
(Cashmere, WA: $4.99)
Liberty Orchards candies have a special place in my heart, as they've been a staple of my hometown for decades. Aplets & Cotlets (the original Apple-Walnut and Apricot-Walnut candies) have been around for over 85 years. Fruit Parfaits are newer, but contain my favorite candy... "Pear Delight" (which tastes like a pear off the tree). Unique as Washington State itself!

Oregon Hill Marionberry Gourmet Syrup
(St. Helens, WA: $5.99)
I like to pour it over french toast or waffles and marvel that something so tasty doesn't involve sacrificing a goat or some other act of appeasement to the syrup gods. Marionberries are seriously delicious, and making them into syrup is pure genius. Try not to drink directly out of the bottle... though I know it will be difficult.

Campagna Pear Dijon Grill & Glaze
(Lebanon, OR: $6.99)
Some people I know use this as a glaze on pork or chicken... since I am a vegetarian, I wouldn't know about that. What I do is use it as a glaze for grilled carrots and potatoes. It's a dijon mustard flavor with a nice pear accent that's pretty special... one-of-a-kind delicious would be a good way to describe it. It's the perfect thing to impress guests... just pour it on food of some kind and you're Martha Stewart (bitchy attitude and superiority complex optional).

Liberty Orchards Apple Butter
(Cashmere, WA: $5.99)
Toast! Toast! Toast! Muffin! Muffin Muffin! Spread it on thick, and it's the Apple Butter you'll be lovin'!

Walla Walla Sweet Onion Mustard
(Pasco, WA: $6.99)
Ooooh. I could eat the entire bottle with just a box of crackers. Smells like ass, but tastes like heaven! Yet another attempt to expose the planet to the BEST ONIONS IN THE ENTIRE WORLD from right here in Walla Walla Washington (home of the Wishy Washy Washing Machine Company). I think it's a bit strong for a burger, but is super-terrific on a sandwich or when blended in a vegetable dip.
Stormy Mountain Apple Dumpling Soap
(Entiat, WA: $4.99)
Okay, you can't eat soap... so WTF?!? Well, I am including it in this box is because it smells fantastic... like a slice of apple pie right out of the oven. I want you to open the box and FEEL like you're here in Central-Washington during apple harvest, when grandmothers throughout the valley are cooking pies and making apple butters. TIP: Put it in your kitchen so it smells like you've been baking all day.

Huckleberry Haven Huckleberry Jam
(Kalispell, MT: $9.99)
Huckleberry Haven Huckleberry Honey
(Kalispell, MT: $4.99)
Huckleberry Haven Chokecherry Jelly
(Kalispell, MT: $4.99)
The good folks at Huckleberry Haven crank out some of the most exotically delicious jams and jellies you will ever taste. Heavenly good when spread over fresh buttermilk biscuits with butter. Deliciously flavorful when spooned onto freshly-baked bread or toast. I know a lady here in town that spoons it into shortbread cookies that are to die for. Good as gold (and almost as expensive). I couldn't decide which to include, so I added all three of my favorites.

Huckleberry Haven Huckleberry Tea
(Kalispell, MT: $7.99)
More huckleberry goodness, this time infused in a delicate black Ceylon tea. Even more important, the tea bags are packed in an innocent-looking tin, so you can use it to stash your valuables or =ahem=
other
special goodies.

Dorothy' Apple Pancakes Set
(Boise, ID: $6.99)
In this box is everything you need to treat yourself to a Washington State breakfast... Apple Pancake Mix and a bottle of Apple Syrup. Most people eat these all wrong, and complain that they are too sweet. But they're just stupid. HERE IS HOW TO EAT APPLE PANCAKES:
1)
Take an apple pancake hot off the griddle and put it on a plate.
2)
Spread a layer of
real whipped cream
(NOT that sweetened dairy topping crap).
3)
Gently roll up the pancake, and drizzle lightly with apple syrup.
4)
Eat it and wonder why your taste buds just exploded with joy.

Mick's Red Pepper Jelly
(Yakima, WA: $6.99)
Instructions... Open a box of gourmet crackers (or Ritz or whatever). Open a tub of whipped cream cheese. Open a jar of Mick's Red Pepper Jelly. Put the cream cheese on the cracker. Then put the jelly on the cream cheese. Then eat. Then run around screaming "HOLY MOTHER OF ELVIS... THIS CRAP TASTES FREAKIN' AMAZING!!! Get down on your hands and knees and thank Dave for making your life just a little better.
Alrighty then... there you have it! A lovely assortment of yummy Pacific Northwest specialties to blow your mind. And it can all be yours IF you are the lucky winner in today's fabulous Blogography Blogiversary Super-Prize Giveaway!