TODAY'S PRIZE: Dave's "Other Man's Treasure" $400 Big Bag of Geeky Stuff!
SORRY...CLOSED FOR ENTRIES!
When I was planning my Two-Year Blogiversary, I made a promise to myself that I was not going to just dig through old crap I had laying around for prizes, but instead buy all-new, all-terrific stuff. But the original (really cool) prize I had lined up for today fell through last week, and I was left with a gaping hole in the prize-schedule. Since it was too late to figure out something new, I had no choice but to see what I might have laying about. As it turns out, there are items that I paid a total of $1050 for just sitting around unused (or barely used). Stuff that I don't want, but may be of use to somebody out there since it's practically new merchandise. As they say, "one man's junk is another man's treasure." Except this stuff isn't really junk at all.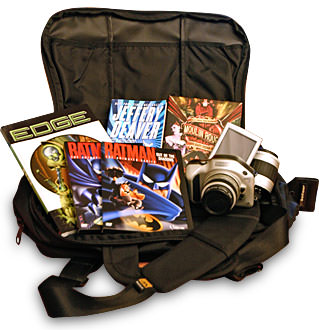 THE CATCH: Ground shipping is included to any address in the Continental US. If you live outside these 48 States, you can still enter, but you will be responsible for exact shipping charges (weight is about 15 pounds). ALSO... Some countries have severe restrictions as to what can be imported. If you live outside the USA, please make sure that none of these items are forbidden to receive in the mail (call your local post office and see).
THE RULES: One entry per person please! Entries must be received before midnight on Saturday, April 23nd (Pacific Time USA, here in Cashmere, WA). Winners will be notified on Sunday, April 24th. Email addresses will never be released, and will be deleted once winners have been notified. Winners are responsible for any customs duties or import taxes (if applicable). If you aren't in the Continental USA, shipping charges can be paid via PayPal or money order in US funds.
TO ENTER: Just send an email to geek@blogography.com and be sure to include your name and a valid email address so I can contact you if you win.
A complete list of the goodies in the bag can be found in an extended entry.
Sony Clie N760C PDA
(Paid: $438.00 - Current Value: $180.00).
When I finally made up my mind to buy a PDA in April of 2002, I decided to go all the way. I went out and purchased the biggest, baddest, coolest, most expensive piece of hardware I could find... the Sony Clie N760C. Then it arrived and I discovered that it wouldn't sync to my Mac, which made it essentially useless. Now there is a 3rd party program to do this, but I have long since moved on. For the past two years, it's just been stuffed in my desk drawer... never having been used for anything more than playing a few games of "Bedazzled." Despite the bottom being a bit scuffed up from sliding around for a couple of years, it's in primo condition (so far as I know).

Batman Animated: Legend Begins
(Paid: $12.98 - Current Value: $6.00).
Batman Animated: Out of Shadows
(Paid: $12.98 - Current Value: $6.00).
I am not a fan of the
Batman
films. The first two were "okay" under Tim Burton, but the others from Joel "nipples on the Bat-suit" Schumacher sucked total ass. Perhaps the new
Batman
movie coming out this year will be better but, until then, the ONLY decent adaptation of the comic is the Batman Animated Cartoon. Yes, that's right, a freakin' CARTOON is the best Batman you can see on DVD. I now own the complete seasons 1 & 2, so these are duplicates. Truly kick-ass for any age!

Brenthaven Pro Laptop Bag
(Paid: $98.00 - Current Value: $98.00).
After years of faithful service, my Eddie Bauer shoulder bag finally gave up and fell apart. Time for a new bag! I wandered from site to site reading every review I could find so that I could buy the best bag available. Again and again I kept reading "Brenthaven" was the brand to beat. So I went ahead and ordered their PowerBook-sized Pro Bag for a then-upcoming trip to New York. On the way BACK from New York, I passed my license test and picked up my new motorcycle... and quickly realized that you can't use a shoulder bag while riding!
Time to buy a new backpack!
This pricey bag has been sitting in my closet ever since.

CrossGen: Edge #1
(Paid: $9.95 - Current Value: $8.00).
This is the first compendium of the CrossGen Universe of comics... a really cool line of stories from the early 2000's. My first copy arrived damaged so I requested a replacement. They sent me six. This is my last duplicate that I've been trying to get rid of for the past three years.
Nikon Pronea S
(Paid: $470.00 - Current Value: $120.00).
As I began traveling more and more, I decided I needed a smaller, more compact and lightweight camera. My trusty 35mm Canon A-1 was like hauling around a boat anchor, and lugging it around was just too much hassle. So in mid-1999, I decided to get me one of those new-age "Advantix" film cameras. The point-and-shoot models were pretty crappy, and I wanted the same quality and flexibility that my 35mm had. THE solution at the time was the Nikon Pronea-S, so I bought the full kit... complete with extra zoom lens... and waited for my next adventure to begin. But in the two months between the time I bought the camera and the time I took my next trip, I discovered digital photography and never looked back. The camera has only been used once, with a single roll of film, and is in perfect condition (so far as I know).

Moulin Rouge DVD
(Paid: $24.99 - Current Value: $16.00).
I bought this double-disc DVD set of Moulin Rouge because three separate people recommended it to me. HIGHLY recommended it. After five minutes I was fast-forwarding through it. After ten minutes I was ejecting it from my DVD player. I called back one of my "friends" and was berating him for telling me to buy this turd of a film. His reply? "Well, it's a musical and I'm gay, so I'm
required
to like it... don't you know anything about gay stereotypes?" Yeah. Right. Anyway... this film was a critical smash that is apparently beloved by everybody but me. Perhaps in giving it away, somebody will have the chance to appreciate it in a way I never can.

Jeffery Deaver: The Vanished Man
(Paid: $7.99 - Current Value: $4.00).
Everybody is raving about Deaver's "Lincoln Rhyme" novels. Denzel Washington even starred in the big-screen version adaptation of
The Bone Collector
. So on a flight to Milwaukee, I bought the latest paperback. Here's my review:
"Sorry, but I just don't get it. While I think the idea of a quadriplegic criminal investigator is interesting, I find Deaver's dialogue to be horrible. Every word feels contrived and forced, which makes conversations between characters just awful."
So basically, it sucked so bad I only read 80 pages before giving up. I was going to toss it, but since the average review from 120 people at Amazon is 4-stars, I figure SOMEBODY might appreciate it. It's just not going to be me.
So there you go. I hope that you are not too disappointed. If you ARE, then tune in tomorrow when you will either be a "frequent commentor" who will be thrilled with the prize... or a "lurker" who is even more disappointed than today!