One of the nice things about living in my home town of Cashmere, Washington is that we are a "Tree City USA." This basically means that we have a lot of trees scattered around the city that are very well cared for. It's an expensive part of the city budget, but it sure makes for a nice place to live.
The not-so-nice thing about living in a "Tree City USA" is that maintenance on all these trees is ruthless. Any diseased or damaged trees that would normally be left to rot or survive the best they can in some other city are cut down and replaced without a second thought. This is probably a good thing, but it's kind of sad when it happens to a tree that I've grown accustomed to having around.
For example... just two weeks ago I wrote about the really cool dogwood (I think) that was in bloom. It's a beautiful tree that's been around as long as I can remember. Yesterday morning it was there when I went to work. When I left to go home last night, it had been chopped down! Murdered in broad daylight!!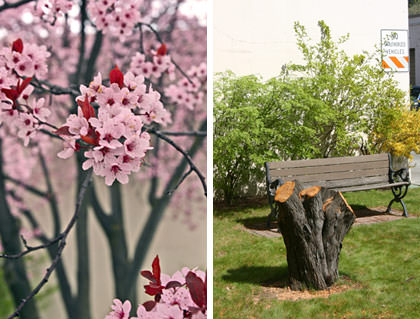 A tragedy. At least they waited for the flowers to fall out of bloom first. The poor tree had a glorious and beautiful send-off in its final days, and I hope that I am half as lucky when my time comes.
Sometimes it's not just a single tree... but an entire group. Mass tree murder! Back in June of last year I bogged about the "Leaning Trees of Cashmere." A few weeks ago, they were ALL chopped down in the prime of their life!
And it wasn't just those three... but practically every tree on that street. The dogwood (or whatever it was) had a disease, so cutting it down was understandable. But I have no idea what was wrong with all of these trees (except they were a bit crooked). Oh well. I'm sure it's only a matter of time before new trees are planted, but I'll bet that's not a big consolation for the brave trees who lost their lives to make room for them.
In more upbeat news, the iTunes Music Store has Coldplay's beautiful new single Speed of Sound available for purchase. Sadly, it's only a taste that will have to hold over fans until the full album is released on June 7th. I am really looking forward to this one, and am anxious to know if they can manage to top their previous effort: A Rush of Blood to the Head.
The "Blogiversary 2" contests are going quite well, and the response is better than I had expected. The down-side is that my bandwidth (which has been steadily increasing for the past several months) is finally topping out. I guess that means I'm closer than I thought to adding Google advertisements to help pay for my hosting bill each month. It's not something I really want to do, but I don't know that I can afford to avoid it much longer.
Movie Quotable of the Day: "I know you will not kill an innocent man... or me either, for that matter!"
Yesterday's Answer: The Naked Gun: From the Files of Police Squad! (1988) with Leslie Nielsen and Priscilla Presley.