Last night I decided to sit down and figure out exactly where I want to go on vacation this year. The first step is checking into airfare and prices of the various places I'm interested in visiting for some reason or another. Right now that would be Greece, Australia, Scotland, Sweden, Japan, and Thailand. Airfare is not really a big deal, because I've accumulated enough frequent flier miles to handle that. The big issue is food, lodging, and transportation once I get there.
Houston, we have a problem.
Everywhere I check, the costs are outrageously expensive. Prohibitively expensive. As in "there's no way I can afford to leave the country" expensive. And it's not because things in other countries are costing more, it turns out that it's because the US Dollar is practically worthless. Take a look...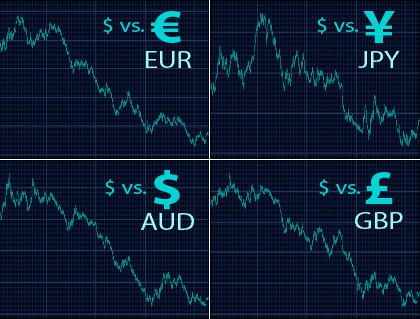 The above graphs show the value of the US Dollar against the Euro, Japanese Yen, Australian Dollar, and British Pound. I didn't know where to start the graph, so I went ahead and picked a random date of January 20, 2001. As an odd coincidence, it's also the day that George W. Bush took office.
The graph doesn't mean much to me except A) it looks like I can't afford to vacation outside the US this year, and B) the US Dollar is going to crash any day now. Because the world revolves around me, I decided to make a new graph that shoes how Bushenomics affects Dave...
The above graph measures Dave's Vacation Prospects, The US Dollar Value, and Toilet Paper Value. As you can see, it turns out that a roll of toilet paper is worth more than the US Dollar, and the chances of me getting to go to Australia fall somewhere in-between. It's only a matter of time before Americans figure this out, and rampant toilet paper theft starts plaguing the country. Better wipe 'em now while you still can!
Four more years of Bushenomics means that we might as well start wiping our asses with dollar bills and save the toilet paper for more important things... like making clothing and shelter.
Movie Quotable of the Day:
"Anyone who isn't dead or from another plane of existence would do well to cover their ears right about now!"
Yesterday's Answer:
Hellboy
(2004) with Ron Perlman and Selma Blair.