I was going to make time next week to go see Sin City, but when I found out that the tightasses over at MovieGuide.org were using words like "depraved," "despicable," "abhorrent" and "evil" to describe it... well, I just had to see it immediately. That's guaranteed box office GOLD, baby!
And I was absolutely not disappointed. The film is a shot-for-shot exact translation of Frank Miller's hyper-violent graphic novels, brilliantly realized by Robert Rodriguez. While there are a few hiccups in the process, the end result is a stunning visual treat that brilliantly captures a world gone mad.
And it doesn't hurt that the film has an astounding cast of talented professionals breathing life into the characters. Bruce Willis, Mickey Roarke, Clive Owen, and dozens of others (including a never-ending buffet of hotties like Jessica Alba and Brittany Murphy)...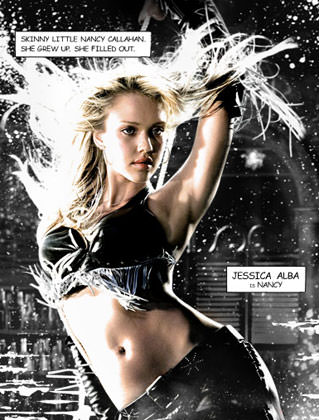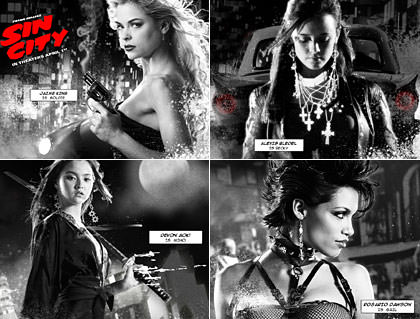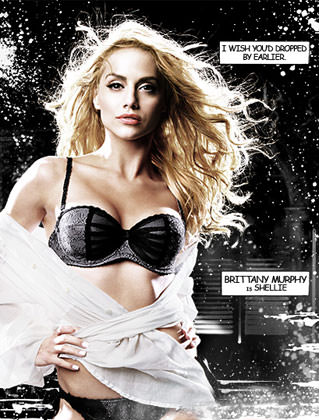 In fact, I dare say there isn't a poor performance in the bunch, which only accentuates how beautiful the minimalist splashes of color look over the rich black & white noir feel. So, for me, this film is simply a must-see. But I realize fully that it is not a film for everybody. The violence is pretty heavy throughout, and much of the subject matter is not very pleasant (hey, this is "Sin City" after all!).
Now I'm going to have to go back and re-read all the books again.
UPDATE: I have tried a couple of times now to contact MovieGuide.org to point out a mistake in their review, but they don't offer up an email address, and emails to "webmaster" are bounced. So I guess I might as well make the correction here, since they are not open to communication...
*** SPOILERS AHEAD ***
In the review, among the many violent atrocities they list is "dog eats at dead person." This is not correct. It should say "dog eats at live person!! The reason that Marv took along the surgical tubing was so that he could use it as a tourniquet after cutting off Kevin's arms and legs. That way Kevin would still be ALIVE when the dog ate at him! Since Kevin was a cannibal who would make the women watch him as he ate them, Marv took a cue from The Bible and offered up Kevin a big-old slice of "eye for an eye" type retribution. You would think a so-called "Christian" movie review site could appreciate this.
UPDATE: Thanks to "Carmen" for telling me where to find the contact information at MovieGuide.org. I had problems with their drop-down menus and couldn't see it, but they do work fine in Safari, so I was able to send them the correction.
Movie Quotable of the Day:
"Hypothetical situation. Which do you prefer, a girlfriend missing one breast or half a brain?"
Yesterday's Answer:
Lord of the Rings: Fellowship of the Ring
(2001) with Viggo Mortenson and Elijah Wood.