Well, it's been a great week... but all good things must come to an end, and it's time to announce the winners!
And figuring out exactly how these winners would be selected was a new challenge entirely. I was going to figure out some kind of spiffy electronic randomizing raffle picker thing (or see if I could find one to download)... but that just didn't seem right. Once the computer takes over, how do I know that it's a fair drawing? I don't. So I decided to print out everybody on perfed folder tabs, and have the names drawn out of a hat (or, more accurately, a CD spindle cover). Since my email program was set to color-code the incoming emails, I decided to color-code the names to draw...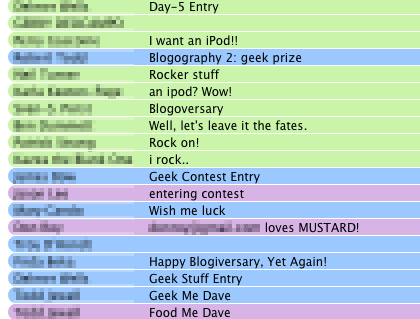 After printing out all the names on tabs, I double-checked to be sure everybody was there, then headed out to a girl I work with so that she could draw the names. It was at this time I began to panic with thoughts like... "oh crap! what if the same person wins all the prizes!" and "I forgot to ask people where they live so I can know whether or not to ask for shipping charges!" and a dozen other things that put me on the verge of a meltdown.
But it was all worry for nothing. Within three minutes, I had the winning names and nothing scary happened. Well, ALMOST all the winning names... I forgot to draw a second name for the "Lurker" prize, and then realized that I forgot to be sure that the "Rock Box" winner had 5 comments (which, thankfully, he did). So I drew the last name myself when I got back to the office, then set about matching the color-coded names to the prizes they had just won.
If you don't want to know (or would rather be surprised when I send out notifications later this afternoon) then stop reading right now...
NOTE: to protect readers who prefer to remain (somewhat) anonymous, I am using first names/last initial (or pen names, if I know them). ALL WINNERS WILL RECEIVE A CONFIRMATION EMAIL LATER TODAY!
25 T-SHIRT GIVEAWAY WINNERS: Gerry D., Neil T., Karla K., Sven P., Gledster, Patrick S., Kimberly J., Mark G., Melissa L., APHS, Craig S., Mr. Jerz, GirlOnAGlide, Troy D., Harold O., Uncle Horns, Delmer W., Down With Pants, Todd J., Firda B, Anthony M., Kachina C., Tony C., Karin H., and Alessandra D. (note: the remaining 26 people who entered this contest will receive "half-off" coupons for the shirt of their choice).
Dave's "Read & Watch" Big Box of Fun: James B.
Dave's "Taste of Home" Big Box of Gourmet Foods: GirlOnAGlide.
Dave's "Other Man's Treasure" Big Bag of Geeky Stuff: Art N.
Dave's "Hard Rocker" Rock Box: theMike.
Dave's "Hard Lurker" Bag: Patrick S.
Dave's "In Person" Thank-You Gifts: Jeff, Karen, Kazza, Kimono, and Perry.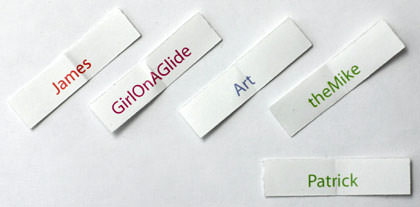 (Note: James and Kazza won T-shirts as well but, since their prizes already included them, I drew two different names for the T-Shirt drawing. If either of you want an extra shirt, that's fine by me!)
And there you have it. Congratulations to everybody who won, and better luck next year to those who didn't!
IMPORTANT!! I have a LOT of work left yet to do. I have to notify winners, get addresses and shirt sizes, collect shipping charges, place a shirt order, pick up the shirts, then buy packing materials and protective cartons to get everything ready for shipment. I promise, promise, promise, to make all of this happen as quickly as possible. Hopefully everything will be ready this week so I can spend next weekend packing and addressing and such. But please do not expect for mailing to happen before Monday, May 2nd!
Thanks again everybody!