Alrighty then... the week-long Blogiversary 2 Kick-Ass Online Celebration has nearly come to a close. All that's left this week is wait for a few entry deadlines to expire at midnight tonight, then arrange to have all the winners selected tomorrow by a impartial 3rd party.
Of course, then the REAL work begins. Notify the winners, collect T-Shirt sizes and shipping charges (where required), place a final T-Shirt order, assemble the prizes, take a drive to Seattle to pick up shirts, then box and mail over 30 packages...
Oh crap! What have I got myself into?!!??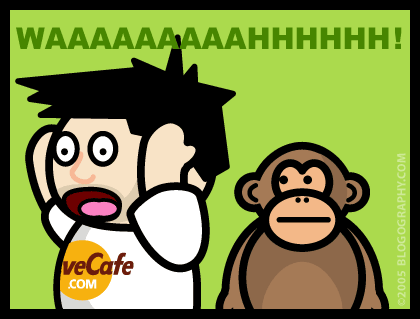 It's a good thing that my Blogiversary only comes along once a year! And since I didn't celebrate last year, I wanted to be sure this time was something special. I guess another week of work for my adoring readers won't be so bad. And speaking of my adoring readers... I'd like to take a minute to thank everybody for tuning in to help me celebrate. Entries for the Blogiversary prizes exceeded my expectations, and that's very cool indeed. All the nice comments and emails were also much appreciated.
With that being said, there are a handful of readers who I would like to single out for a bit of extra thanks... Jeff, Karen, Kazza, Kimono, and Perry. These guys (and gals) made the extra effort to actually meet up with me in person, and I'd like to send a T-shirt and a little something extra their way to let them know how much I appreciated that. I'll email you for your shipping information when the prizewinner notifications go out tomorrow.
Anyway, thanks again for tuning in, and I'll start making plans for next year...
Movie Quotable of the Day:
"Only a man whose heart is pure can wield the knife, and only a man whose ass is narrow can get down these steps... and if mine's is such an ass, then I shall have it!"
Yesterday's Answer:
Alien3
(1992) with Sigourney Weaver and Charles S. Dutton.