Bleh. It felt very much like a Monday today.
Schiavo. Honestly, I am not going to get into this here. I don't know Terri or anybody else involved, don't know what arrangements she made for her life, and don't have an opinion about whether something is right or wrong for somebody I've never met. What I do have an opinion about is that not everything should be a political issue. What I will say is that I do not want that kind of "life" for myself, and it should be MY f#@%ING CHOICE. So here it is, in public record: If my mind... if who I am... is gone, then don't save me. If there's little chance of recovery, let me go. Don't keep me on a respirator. Yank the feeding tube. Seriously, I've lived a full life and done more than most people ever will, so I'm perfectly okay with it. Don't worry about "making a mistake" or fret about "killing me" because it's all good. It's not that I want to die, I just don't want to live that way. I don't want to be a tool for some ass-wipe politician. I don't want to be a poster child for right-to-lifers. I don't want to be a burden on those I care about. I don't want to be remembered as a vegetable. I just don't want it. And if you care about me at all, then you shouldn't want it for me either.
Laid. Ohhhhh... so that's the problem! My check is in the mail...

Dental. Had my dental check-up this morning. That in itself is nothing special (no cavities!), but getting there sure was. Coming into Wenatchee this morning, some old dumbass in a beat-up Cadillac decided to turn into the wrong lane coming out of Wal-Mart. Usually I find the blissfully ignorant to be funny. But not when they are heading straight for me in a car. After I ran off the road to avoid him, he went on his merry way and heaven only knows what happened. I'm guessing he mowed down a fruit stand and killed a half-dozen people, or perhaps added a drive-thru to a local pharmacy where there wasn't one before.
Star. Mr. Jerz has finally hit the big time as a television star! I look forward to his future works, and am anxiously awaiting his entry on the Internet Movie Database. Ladies and gentlemen, I present Ryan Jerz, ACTOR...
(UPDATE: MrJerz.org is down, and I can't leave a comment... I can only guess that Hollywood casting agents are furiously attempting to book Jerz for a gig! I gotta give the guy props here, he absolutely managed to pull it off. I've seen first-hand what happens when people are tossed in front of a television camera and told to "act" - even in fun - and it rarely goes as well as this. So congratulations Mr. Jerz! Well played! Though I just gotta ask... did you really beat the crap out of the guy who played the thief at the end? Now that's what I call "method acting!").
Parts. Okay. If fingers are ending up in the Wendy's chili. What parts should I expect to be finding in my Wendy's Chocolate Frosty?
Dead. The reason I paid for ShowTime television: so I could watch Dead Like Me. The reason I stopped paying for ShowTime television: because they cancelled Dead Like Me. There's just nothing else on that lame HBO wannabe network worth watching. The second season of this amazing show was even better than the first, and it's coming to DVD on July 19th. It will be bittersweet to watch all those priceless episodes again knowing that there's no more to come after that last one. Crap.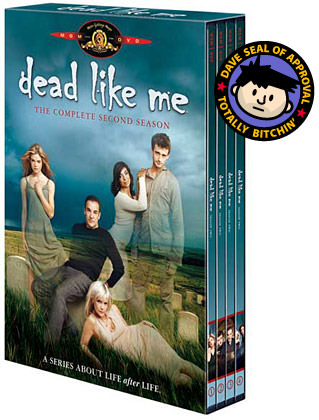 Veronica. Hmmm... since I am about to gush like a 12-year-old schoolgirl, I'd better head on over to MSN Spaces to see how actual 12-year-old shoolgirls gush in their blogs... okay, here we go... omfg! new veronica marz 2nite! hehe. i am like sooooooo psyched! veronica is sooooooo cute and the show is sooooooo awesome!!!! u would luv it. hehe. VERONICA MARS RULEZ DAWGZ!!!!!! woo hoo!!!! hehe. c ya!
Movie Quotable of the Day:
"White boys always get the Oscar... it's a known fact! Did I ever get a nomination? No! You know why? 'Cause I haven't played any of them slave roles and get my ass whipped. THAT'S how you get the nomination! A black dude who plays a slave that gets his ass whipped gets the NOMINATION, a white guy who plays an idiot gets the OSCAR. That's what I need... I need to play a retarded slave, THEN I'll get the Oscar!"
Yesterday's Answer:
Pretty In Pink
(1986) with Molly Ringwald, Annie Potts, and James Spader.