One whole day without my PowerBook. It's been tough... really tough. No sitting on the couch working while watching television at night. No laying in bed 'til late catching up with blogs and seeing what's new in the world. No waking up and grabbing my PowerBook first thing to run through all the Trackback spam I've accumulated overnight. Nope. No PowerBook lovin' for me (on the plus-side, it did force me to download all the latest upgrades for my PowerMac G4 Cube!).
Which brings up an excellent point raised in a comment from Karla on my last entry...
Dave...methinks you might want to get a girlfriend?
Seriously, I feel the same way about my laptop. I call her the Silver Bullet. I rarely even travel with her for fear of getting her hurt.
I think they will give her good care and attention. The letter is sweet.
Girlfriend? Hmmm... it's been a while, but I think I am better off with the PowerBook. Time for a comparison chart, methinks...
| | |
| --- | --- |
| Always busy getting ready. | Always ready to get busy. |
| Never shuts up. | Has an off-switch. |
| Needs constant attention and entertaining. | Doesn't mind being ignored and does all the entertaining. |
| Insists you be nice to her bitchy friends. | Shows you porn. |
| Insists you accompany her for stupid activities like shopping. | Shows you porn. |
| Eventually becomes defective and mentally unstable after use... requires replacement. | Bug patches can be applied to fix any instabilities, thus ensuring a long and happy relationship. |
| A risky venture into freaky sexual diseases that can really ruin your day. | Can't pass viruses to you and is easily cleaned of any it contracts. |
| High maintenance... constantly requires expensive gifts. | Low maintenance... only requires an occasional upgrade. |
| Smells nice. Sometimes lets you have sex with her. | errr... |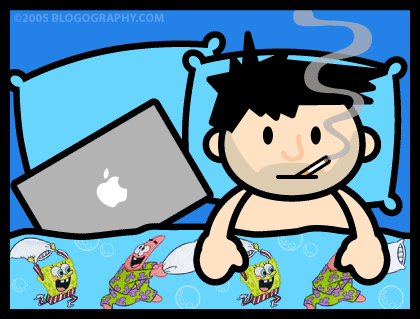 Okay. I see your point. Any mentally-stable women out there who can iron and are seeking a relationship, please submit a resume and psychological evaluation to me via email as soon as possible.
Movie Quotable of the Day:
"I could have killed 'em all, I could kill YOU. In town, you're the law... out here, it's me. Don't push it. Don't push it or I'll give you a war you won't believe. Let it go."
Yesterday's Answer:
Ace Ventura: Pet Detective
(1994) with Jim Carrey and Courtney Cox.