Well, the day has finally come to send in my PowerBook so that the worn-out latch can be repaired. This is very difficult for me, because she's been a constant companion for several years now. I don't know how I'm going to manage carrying on with my life without her by my side... even for this brief time. = sob! =
Is it too much to ask that everybody out there think happy thoughts for my PowerBook's full recovery, quick turnaround, and safe return?
Here's the letter I sent in with the repair...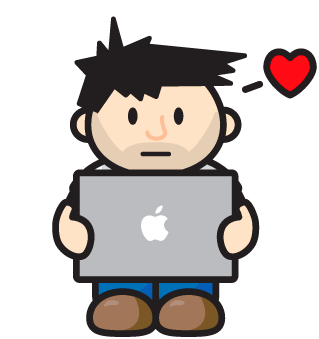 Dear Apple Service,
I love this PowerBook. It has been around the world with me numerous times and we've been on many adventures together. Newer PowerBook models have come and gone, but my love for the classic Titanium G4 has not diminished.
I have tried my very best to care for my PowerBook by buying her nice padded cases and special cleaning cloths and screen wipes. I've always treated her gently and made sure she was never put in harm's way. Despite my efforts, the latch button has slowly worn out... it started by not latching securely from time to time, but now it won't latch at all, so I am unable to keep my beautiful PowerBook closed.
I am hopeful that you can find some way to repair her, as I would be heartbroken if I were forced to purchase a newer, bigger, clumsier, Aluminum PowerBook (I'm fairly certain that she doesn't want to be tossed in a dumpster either... she's grown quite fond of me as well, I can just tell).
They tell me at the Apple Store that my PowerBook is still under AppleCare protection. Her serial number is XXXXXXXXXXX, and the Administrative login is "XXXX" with the password being "XXXX" -- If you have any questions or require any further information, please don't hesitate to call me.
Many Thanks and Best Regards,
David Simmer II
Movie Quotable of the Day:
"If he had held the ball laces OUT like he's supposed to, Ray would never have missed that kick! Dan Marino should die of gonorrhea and rot in hell!"
Yesterday's Answer:
Big Daddy
(1999) with Adam Sandler and Joey Lauren Adams.