This was not starting out to be a very good day. Which is not surprising considering how my evening went yesterday. It all started as I was driving home for work... a nice drive through town, minding my own business. When all of a sudden I notice some white chick in cornrows flipping me off with an obscene gesture while two of her skanky friends watched. Ordinarily I would just think to myself "whatever" and keep driving, but this time was different. I slam on the brakes, open my window and shouted "WAS THAT JUST A RANDOM ACT OF DEFIANCE, OR DID I DO SOMETHING TO PISS YOU OFF?!?" She was genuinely startled for a second, but quickly regained her composure and shouted back "f#@% OFF A$$HOLE, I WASN'T TALKING TO YOU!!" To which I shouted back "ALRIGHTY THEN... CARRY ON YA GANGSTA-BITCH WANNABE!!" This caused her friends to crack-up laughing, which threw her into a rage of obscenities.
I ignored her and drove off, but then got to thinking about how sad it is that some small-town cracker white girl can honestly think that randomly flipping people off and shouting obscenities while done-up in cornrows makes her bad-ass cool. If she were to ever encounter a real gangsta-bitch, her pasty white ass would be served to her on a platter. I'd love to fly her down to East L.A. and drop her off on a random street corner and see how many minutes she could survive. Call me a horrible person, but THAT would be a great idea for a reality television series!
Things just went downhill from there. By the time I was ready for bed, I was so freaked out that I ended up taking a sleeping pill so I could manage a few hours sleep. Naturally, this meant I woke up in a drugged-out haze. At least I was in a drugged-out haze until I stubbed my toe on the bookshelf. Then I banged my head in the shower. Then I jammed my elbow putting on my shirt. Then I couldn't find my security key dongle for LightWave. Then I forgot what I had done with my lucky hat. Eventually I made it out the door, but I was not a happy camper.
After getting to the office and checking my email, I notice a message from a friend who is a fellow graphic designer that said "IM ME RIGHT NOW DAMMIT!!" Thinking that it was some kind of joke, I replied "Yeah, I'm me right now too dammit!!" Within seconds of pressing the "send" button, his reply hits my inbox... "IM = Instant Message you dork. Turn on iChat!!" And so I did. Turns out he ran into a tricky design problem and needed some advice on how to handle it. Fortunately, things like this are easy to solve with a little face-to-face video chat, and we managed to figure everything out in a few minutes.
After expressing his gratitude for my assistance, he went on to say "I hope you get your PowerBook back soon... you're looking a little grumpy today."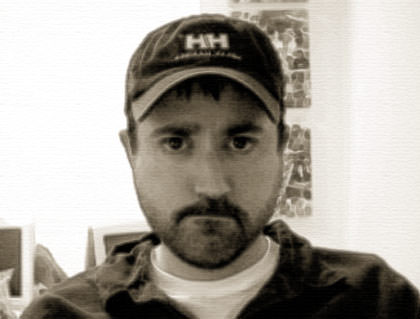 Hmmm... I do look a little grumpy today in a serial-killer kind of way. But all that changed the minute I looked up the repair status for my PowerBook...
AppleCare is da bomb! Can you believe it? One day turn-around repairs!! This means I just might get her back tomorrow (which is the best birthday present I could ask for!). Of course, from previous experience, I have learned never to count on Airborne/DHL for on-time delivery... but, at the very least, I should have my laptop back in time for the weekend.
Now I can't seem to wipe the smile off of my face. It's going to be a good day after all.
Movie Quotable of the Day:
"C'mon, he's insane! Look, right now he's probably dancing around in his grandma's panties... yeah, rubbing himself in peanut butter."
Yesterday's Answer:
Rambo: First Blood
(1982) with Sylvester Stallone and Brian Dennehy.